Ice Houses
Railroads maintained ice houses for the purpose of filling refrigerated freight cars and providing ice for early passenger car conditioning. These operations were usually at major terminals. The following ice houses and icing operations have been noted:
Detroit - Michigan Central Junction Yard. A l

arge icing facility for railroad refrigerated box cars. Located on the property south of the MCRR main line, between Greenfield Road on the west, and Miller Road on the east. This is the triangle area bordering the main line, the junction yard branch, and the old and new wye to Town Line. Operations here likely began about 1900 and operated through the 1950's.

Durand - Grand Trunk Western. Photographs of this icing facility are located at the Michigan Railroad Museum at the Durand Union Station. [Robert Conrad]
Elberta - Ann Arbor Railroad. The AA apparently had an ice house in operation at Elberta which was reported to be located east of the roundhouse.
Melvindale - Wabash Railroad. An ice house was located in the Wabash Yard in what is now Melvindale. This area is now NS' Manifest Yard. [Greg Degowski]
Niles - Michigan Central. This icing operation was build and operated by the MC in their yard here. [Gary Schoenleber] This building still stands as of 2002.
Port Huron - Grand Trunk Western. See the photos below.
Shanghai Pit (Ypsilanti) - The Michigan Central harvested ice from the Huron River here around 1900.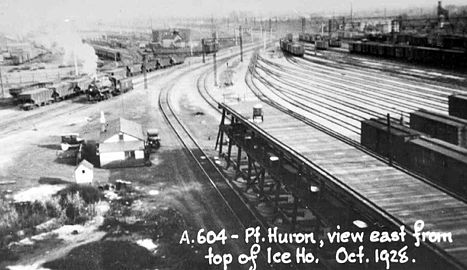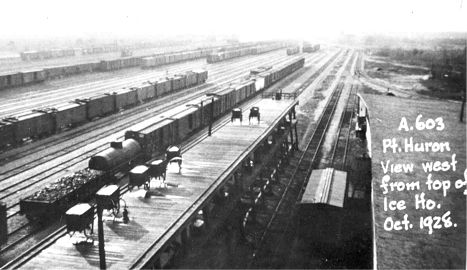 Photo Info/Credit: Two photos of the icing operations of the Grand Trunk Western a their Port Huron yard in 1928 [Charlie Whipp collection]