Railroad: The Ann Arbor Railroad Company
The Ann Arbor Railroad was the successor to the Toledo, Ann Arbor & North Michigan in 1895. By this time, the line from Toledo to Frankfort was largely intact, though some modifications were made under Ann Arbor ownership. The line was operated for many years under Wabash, DT&I, Penn Central and State of Michigan ownership. The line west of Yuma (near Cadillac) to Frankfort was abandoned 1994. The remainder was parted out to the new Michigan Interstate (which became the new Ann Arbor railroad) and the Tuscola, & Saginaw Bay on a state owned route. This later became the Great Lakes Central.
---
Toledo, Ann Arbor & North Michigan (and others) → Ann Arbor Railroad (1895-) → Penn Central → State of Michigan/ Michigan Interstate Ry,
---

Built: ~1882
Acquired: The Toledo, Ann Arbor & North Michigan at foreclosure in 1895 from Toledo to Frankfort.
Became: Penn Central
Reference: [MRRC] AARRMotorCarAtDurandDepot[AlanLoftisColl].jpg
---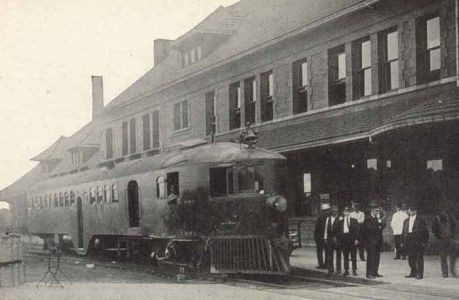 Photo Info: An Ann Arbor Motor Car passenger train at the Durand Depot in the 1930's. [Alan Loftis collection].
The Ann Arbor Railroad was created by the purchase of the Toledo, Ann Arbor & North Michigan Railway company in a foreclosure sale on July 2, 1895. The company was controlled from 1905 to 1910 by the Detroit, Toledo & Ironton. Control was assumed by the Wabash railroad in 1925, and then transferred back to the DT&I in 1963. The AA declared bankruptcy in 1973 and the portion north of Ann Arbor sold in 1980 to the State of Michigan.
---
Time Line
1902. A grade separation project on the AARR in the City of Ann Arbor was completed. [MCR-1903]
1911. The Ann Arbor Railroad controlled the Manistique & Lake Superior in 1911.
The line south of Ann Arbor was operated by the Michigan Interstate Railway Company from 1977 to 1988 and acquired at that time by the Ann Arbor Acquisition Corporation. In 2013, the line was sold to Watco, a large operator of shortline railroads. The Ann Arbor interchanges with the Great Lakes Central Railroad at a location known as Osmer, in Ann Arbor Township.