Railroad: The Au Sable & Northwestern Railway Company
The Au Sable & Northwestern railway was built as a logging railroad between Au Sable and Oscoda, northwest into the forests, as far away as northwest of Lewiston in Montmorency and Otsego counties. It was originally funded by the Potts lumber company and then by Loud lumber interests. Outside of mill operations along the Lake Huron Shore, the central operations of the company were at McKinley eastern in Oscoda County. The line was originally narrow gauge during its formidable years.
After conclusion of the pine logging era, the company was leased to the Detroit & Mackinac railroad in 1910. The gauge of primary lines was changed to standard gauge and other routes were abandoned. The line was ultimately sold to D&M and operated in 1914. It was abandoned in 1927.
---
Potts Logging Railway → Au Sable & Northwestern Railway. → Detroit & Mackinac Railway.
---
Built: 1884 (by Potts Logging Company)
Purchased: By the AS&NW in 1891.
Leased to: Detroit & Mackinac Ry. in 1912 and sold to them in 1914.
Reference: [MRRC] A&NW-LocomotiveNearMessingerBrothersNearCominsMI.jpg
---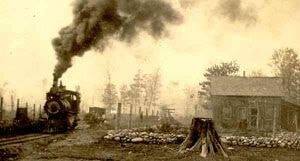 Photo Info/Credit: Au Sable & Northwestern locomotive works in the woods near Messinger Brothers, Comins, MI.
In 1887, the Potts Logging Railway purchased the narrow gauge 3' railroad operations by John E. Potts and the Potts Salt and Lumber Company in Montmorency and Oscoda counties. [MRRC] reports the lines being on the north bank of the Au Sable River in Section 15, T26N R4E going to the north line of Oscoda County. Also, from the same location to Damon, with branches. The original Potts line is described as 14 miles from McKinley (also known as Potts) southwesterly.
September 3, 1887. Au Sable. The strike on the Au Sable & Northwestern Railroad has been settled and trains are running as usual today. The men go to work at same rates as formerly. Milo Davis, the superintendent, refused to return, and Monte Huriburt, the former train dispatcher, takes his place, which is satisfactory to the men. The men got all they asked for excepting Davis. [DFP-9/4/1887]
In 1891, the Potts' railroads were purchased by the Au Sable & Northwestern Railway who continued to operate them as a 3' narrow gauge railroad. There were 54 miles of railroad when purchased, from AuSable to Comins along with branch lines.
In 1912, these lines were leased to the Detroit & Mackinac Ry., which purchased the AS&NW operation in 1914. What remained of the line at that time was converted to standard gauge.