Railroad: Detroit and Toledo Shore Line Railroad Company, The
---
Built → Detroit & Toledo Shore Line RR → GTW → CN
Built: 1903 from River Rouge to Ohio state line by the GTW (50%) and the Clover Leaf (50%). The Clover Leaf merged into the Nickel Plate Road in 1922.
Became: Sole ownership by the Grand Trunk Western in 1981, then later merged into the Canadian National Ry.
Reference: [MRRC]
---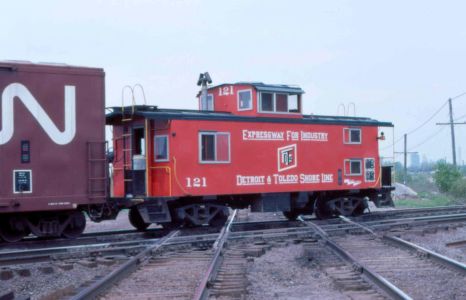 The Detroit & Toledo Shore Line railroad was a late arrival to the Detroit marketplace. It was a high traffic line built from north Toledo to the Delray area southwest of Detroit in 1903 by the Grand Trunk Western and the Clover Leaf (Toledo, St. Louis & Western).
The Grand Trunk wanted access to Toledo and points south, and the Clover Leaf wanted to tap the fast growing Detroit industrial market. The two roads each owned 50% of the D&TSL and rotated the Presidency of the DT&SL annually between the two owners.
The line quickly became double-tracked allowing high capacity and speed when running trains between these two terminals. The road had terminal yards near Toledo (Lang Yard) and at Dearoad (in River Rouge, MI). Dispatching was performed from yard offices at Dearoad and the railroad had train order stations in Wyandotte, Trenton, Slocum Junction, Monroe, and Lang.
The railroad operated through trains south to Toledo originating at GTW locations in Durand, Port Huron, Pontiac and various yards in Detroit. Eventually, Dearoad was downgraded as a crew starting point and terminal operations were transferred to a location called Edison (south of Trenton). Trains north of Edison were crewed from their originating location on the GTW.
The D&TSL never ran scheduled passenger trains, though at least one depot was built at Monroe which was used for freight and as a block station. A number of passenger specials and excursions were operated over the years.
The Clover Leaf became part of the Nickel Plate Road in 1922 and later merged into the Norfolk & Western. In 1981, the GTW purchased the N&W 50% share of the road and later the GTW merged into the Canadian National railroad.
[MRRC], [MRL], [EFI] and other sources.
Photo Credit/Info: A D&TSL caboose #121 bringing up the end of a puller at Vickers Crossing on the Toledo Terminal in 1975. Pullers operated between Lang Yard and other railroad yards in the Toledo area using Toledo Terminal's belt line. [Charlie Whipp photo]
---
The authoritative book on the D&TSL and its operations is the "Detroit & Toledo Shore Line, Expressway For Industry" by Charles H. Geletzke, Jr. and Wilbur E. Hague, ©2016, Kutztown Publishing Col, Inc.