Railroad: Norfolk and Western Railway Company
The Norfolk and Western Railway acquired the Wabash railroad in 1964 and their Michigan main line from Detroit southwest to Montpelier, Ohio. The railroad became part of Norfolk Southern in 1980.
---
NYC&SL and Wabash → Norfolk & Western Railway → Norfolk Southern Corp.
---
Operated in Michigan: 21 Years
Consolidated: 1861 - the New York, Chicago & St. Louis ( Nickel Plate Road).
Leased: 1864 - the Wabash Railroad. Control in 1970.
Merged: 1982 - into Norfolk Southern Corporation.
Reference: [MRRC]
---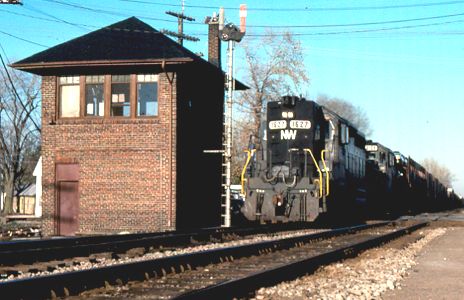 Photo Info: N&W 1617 heads west passing Milan tower in 1984. [Jim Slater photo]