Station: Iron River, MI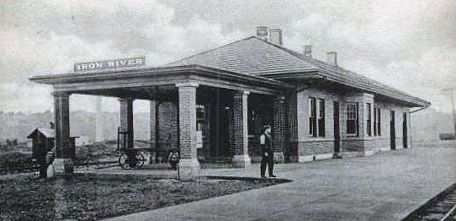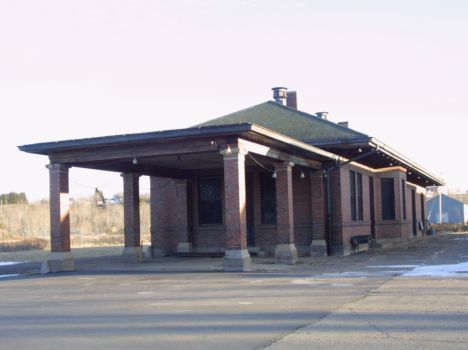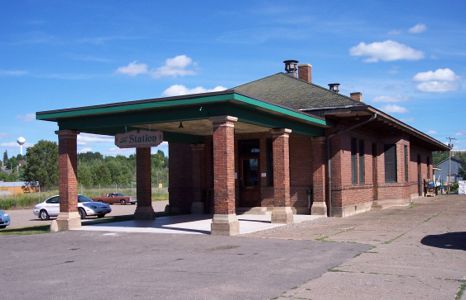 Exploration for iron ore in the Iron River area was begun in 1880. The first iron mine, the Iron River Mine was opened soon after. The name of this mine was changed to the Riverton Mine sometime later. The mine's owner persuaded the Chicago and Northwestern to extend its line from Stager to Iron River, a distance of about 15 miles. The village was platted on the west bank of the Iron River and was the first settlement platted on the west side of Iron County.
The C&NW line to Iron River was completed in the fall of 1882. Although the original village grew rapidly, the Panic of 1893 stiffled further growth for some time. From 1889 to 1900, no ore was mined on the entire west side of the county, including near Iron River. During this period, residents turned to logging for employment. Small logging railroads penetrated parts of western Iron Coutny, allowing for harvesting of hardwood stands after the pine was removed.
The turn of the century saw the areas greatest period of growth, with a steady increase of pig iron using the soft, phosphoric ores found around Iron River. New mines were developed at a rapid pace after ore was discovered outside of the Iron River valley at the James Mine in 1905. This area later became Mineral Hills. From 1905 to 1912, the number of mines increased from six to 16. The Village installed a sewer system in 1905 and electric light facilities in 1908. The 1910 census showed a population of 7,816 on the west side of Iron County.
Iron River encompassed the Beta and Nanaimo mines.
The cluster of towns around Iron Mountain (Caspian, Stambaugh, Gaastra and Mineral Hills) were united by public transportation in 1913 when a street railway franchise was granted to the Iron River and Crystal Falls Street Railway Company. The 4 and 1/2 mile long line operated until 1921.
Iron River was incorporated as a city in 1926. The Great Depression forced the closing of most mines and although some reopened at the beginning of World War II, the mining industry never again regained its earlier high level of production.
In 2000, Iron River, Stambaugh and Mineral Hills merged to form the new City of Iron River.
[Information researched from an article from the Iron County Historical Society, written by Marcia Bernhart]
Photo Info/Credit:
The C&NW Iron River station on Selden Street was built about 1910. [UPM]