Station: Stambaugh, MI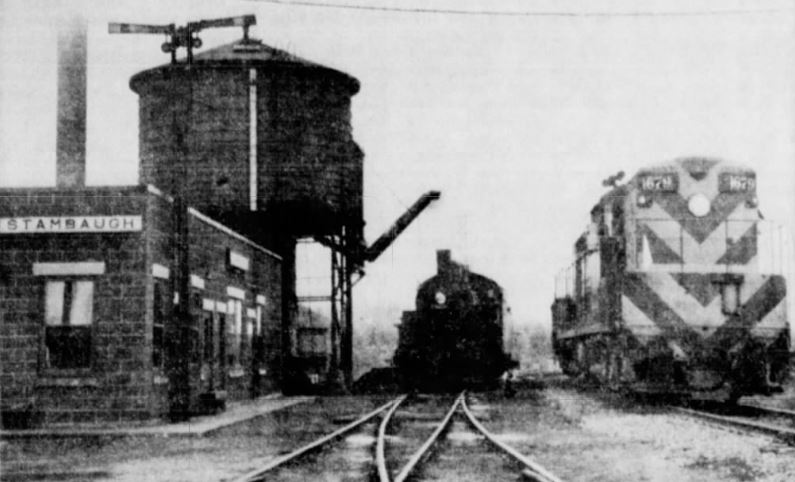 Stambaugh was platted in 1882 after the Iron River Mine had shown sufficient promise of producing large quantities of ore. The new village was named in honor of John Stambaugh, the president of the Todd, Stambaugh Company of Youngstown, Ohio which had recently acquired the rights to the Iron River Mine. In 1890, the town was incorporated as a village and a water system was installed.
At the turn of the century, the population of Stambaugh was 695. In the early 20th century, Stambaugh had five mines. Electricity was brought in by the Menominee Range Power and Development Company. Telephone lines were installed in 1898 by Michigan Bell Telephone Company. In 1923, the town was incorporated as a City. The population peaked in 1930 at 2,400, but declined as mining declined. In 2000, the town was merged into Iron River. [Iron County Historical Society information]
Photo Info/Credit: A photo of the Stambaugh depot and water tower in 1955, showing both steam and diesel locomotives. [Escanaba Daily News archives]
Stambaugh was the major marshalling yard for Iron River, Mineral Hills, Caspian and Gaastra mines. Local switchers based in Stambaugh served the mines, and brought loaded ore cars back to Stambaugh. Trains were then sent from here east to the docks at Escanaba.
After the C&NW and MILW created an ore transport pact in the early 1930's, MILW ore loads were also brought here. Trains to and from Escanaba used both CNW and MILW power and crews. Local freight and passenger trains were not part of the ore pact, and each railroad handled these services independently.
The MILW branch from Crystal Falls to Stambaugh was abandoned and removed in 1969. The C&NW line was removed in 1982. [MRL], ending railroad service. Stambaugh was merged with Iron River in 2000.
---
1918. MILW had a station agent here on the day shift. At $120 per month, it was one of the highest paid agents in the Milwaukee system. The C&NW had telegraph operators here on all shifts. [TRT]
May 25, 1923. Flames Destroy Stambaugh Station. The Northwestern railroad company's station at Stambaugh was completely destroyed by fire, of unknown origin Wednesday morning. The building was of frame construction, with quarters for telegrapher, waiting room, and freight storage warehouse. [BH]
January 3, 1959. Railroad Asks Change of Track at Stambaugh. Washington (AP) - The Milwaukee Road has asked the Interstate Commerce Commission for authority to relocate it operations in the vicinity of Iron River and Stambaugh.
The company proposes to abandon about two miles of trackage in and around Stambaugh because it has been advised than an iron ore mining operation is approaching the right of way with threat of cave ins.
The Milwaukee has contracted with the Chicago & Northwestern Railway for use of about five miles of its tracks as a substitute route between Stambaugh and Iron River. [IDG]