Station: Caspian, MI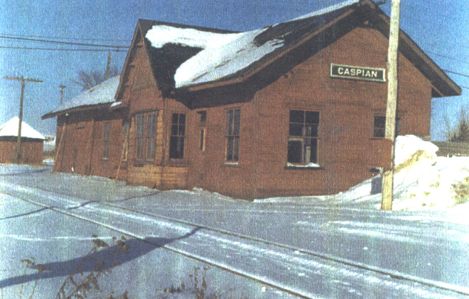 Caspian was located on the C&NW Crystal Falls branch in 1884. The village was platted as Palatka in 1891. It was the headquarters of the Verona Mining Company which operated the Caspian, Verona and Fogarty mines. The town was renamed Caspian in 1918. It was incorporated as a village in 1919. Five mines (Baltic, Caspian, Youngs, Fogarty and Berkshire) were established between 1900 and 1908, with a sixth opened in 1922 (Buck Mine).
The population of the village was 1,860 in 1917 and the village installed a water system in 1919 and sewer system in 1926. Between 1914 and 1921 the town was connected by a streetcar line with Iron River and Stambaugh to the northwest, and Gaastra to the southeast.
Caspian was incorporated as a city in 1949. Caspian's population declined after the closing of the mines. [Iron County Historical Society information]
Today, Caspian shares police and fire services with its neighbor Gaastra.
Photo Info/Credit: The C&NW depot at Caspian. [Dean Goodman collection]
---
1918. The C&NW had a station agent here on the day shift. [TRT]