Location: Jackson, MI - GTW Facilities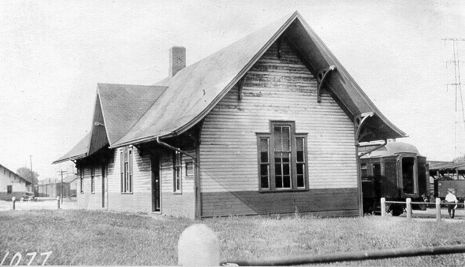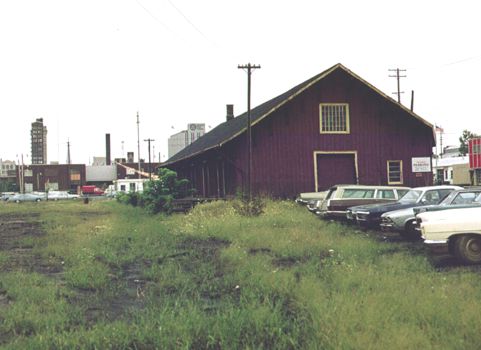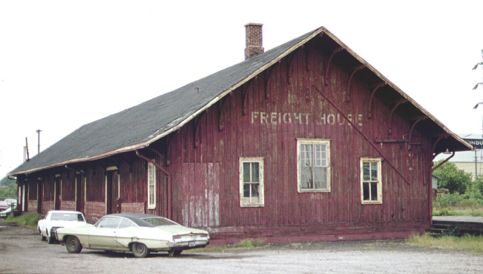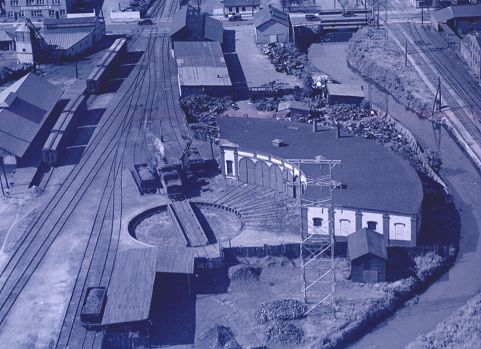 The Grand Trunk Western facilities in Jackson were located east of Jackson Street and north and south of West Trail Street.
The GTW had their passenger station here, along with a freight house, a roundhouse and North Yard.
The roundhouse, shown in a photo at the left, had eight stalls but was probably home to only one or two locomotives as the GTW branch line received only one mixed train daily for much of its 100 year history. The GTW locomotive in this photo is about to receive coal from an adjacent clamshell crain.
Photo Info: Top, the GTW depot at Jackson, also known as the Michigan Air Line station. [Doug Leffler collection]. 2nd and 3rd photos, the GTW freight house, taken in 1975. [Jim Sinclair] 4th photo, the GTW roundhouse at Jackson in an aerial view from the 1930's. The double track NYC Grand Rapids/Saginaw branch is on the opposite side of the Grand River in the upper right of the photo. The GTW passenger station is just out of site near the bottom left of the photo. [Victor Warden, John Worden collection]
---
Time Line
1883. The Grand Trunk is now running trains over the Michigan Air Line from Ridgeway [Richmond] via Pontiac and South Lyon to Pinckney. On December 24 the line will be completed and opened for traffic to Jackson. Two trains each way will be run daily between Ridgeway and Jackson. A passenger train will leave Ridgeway at 8:10 am arriving at Jackson at 1:20 pm. and will leave Jackson at 6:30 pm arriving at Ridgeway at 11:10 pm. A mixed train will leave Ridgeway at 9:40 am arriving at Jackson at 6:15 pm and will leave Jackson at 8:00 am arriving at Ridgeway at 3:30 pm. A local passenger train will leave South Lyon at 5:20 am and arrive at Ridgeway at 8:00 am and returning will leave Ridgeway at 5:35 pm arriving at South Lyon at 8:10 pm. [PHTH-1883-1220]
1917. The GTW had an agent here as well as operators on the 2nd and 3rd shifts. [TRT]