Interlocking: Jackson, MI - OD Tower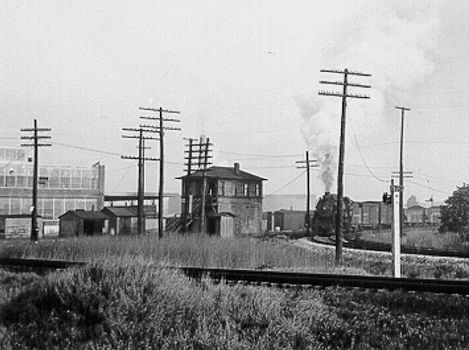 OD Tower was located south of downtown Jackson. This was the crossing of the north-south Lake Shore & Michigan Sothern's Jackson Branch, and the east-west Michigan Air Line and Jackson & Fort Wayne line (which later operated as a double track main line). Just south of OD, the Cincinnati Northern verged south to Bryan, Ohio via Hudson.
OD Tower also controlled the interlocked crossing of the former LSMS Jackson Branch which went north along what is now Airline Drive, terminating at the freight house (which is now restored and a Wendy's Restaurant].
Photo Info: Top, a 1940's photo of "OD" Tower, south of downtown Jackson. The locomotive is 1700, a Big Four Mikado which was typical of CCC&StL power of the day. The train is going from west to south, from the MC Air Line branch onto a short stretch of NYC Jackson Branch, before heading down the Big Four's own CN branch through Hudson and Bryan, Ohio. [Jim Tarbell, Doug Leffler collection]
---
Time Line
1903. This was a Saxby-Farmer Lever machine installed by the Union Switch & Signal Co. [MCR-1904]
1917. This tower was staffed by Michigan Central operator/levermen around the clock, $76-$78 per month. [TRT]