Interlocking: Lamar Tower, MI (Grand Rapids)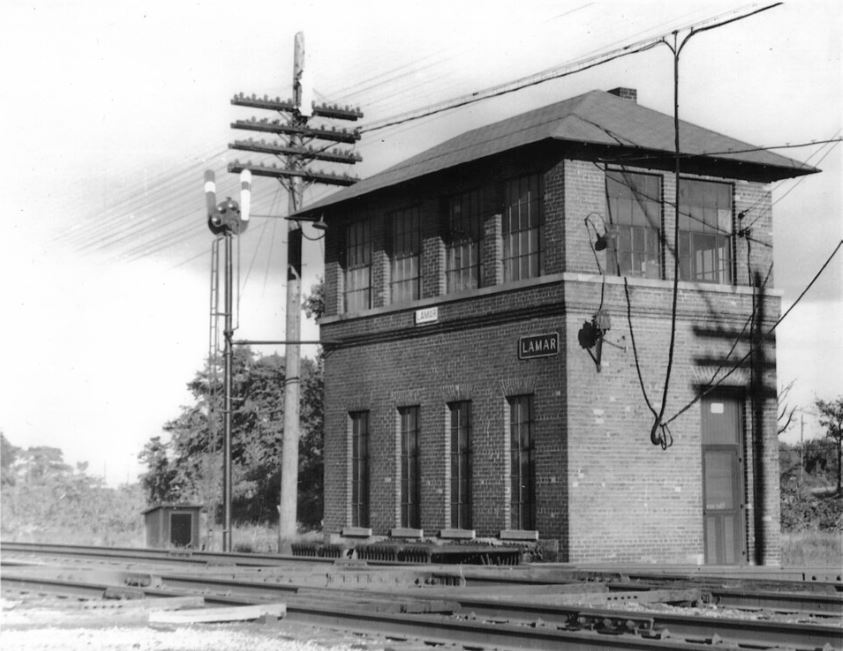 Lamar was an interlocking tower at the crossing of the Lake Shore & Michigan Southern (north-south line from Kalamazoo to Grand Rapids) and the Pere Marquette (east-west ine from Grand Rapids to Chicago). Lamar was also the west entrance to PM's Wyoming Yard.
Photo Info/Credit: A photo of the Lamar interlocking tower.
---
November 7, 1929. SIGNALMAN SETS BLOCKS AGAINST TRAINS AND DIES.
Grand Rapids, Nov. 7 (AP) William Denton Bird, 59, veteran watchman in the signal tower at the intersection of the New York Central and Pere Marquette tracks in Wyoming township, set the signals against all trains Tuesday and died of heart trouble.
This is the picture pieced together by fellow railroad men for Coroner Harmon C. Wolfe, after Bird's body was found along at this post in a chair between two long rows of levers that threw switches for the intricate rail traffic.
The last train to get Bird's signal was the midnight Pere Marquette passenger train. A New York Central freight train approached the crossing some time after and stopped for the red light. After a long wait, the brakeman climbed the tower and found the watchman dead. [BCE-7/7/1929]