Station: Wyoming Yard, MI (PM)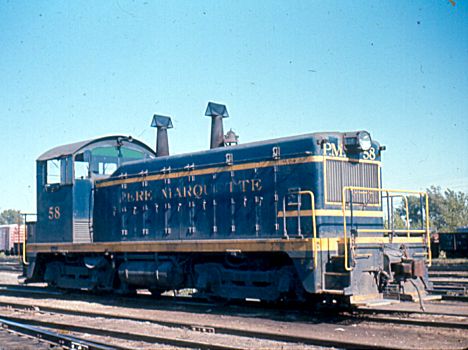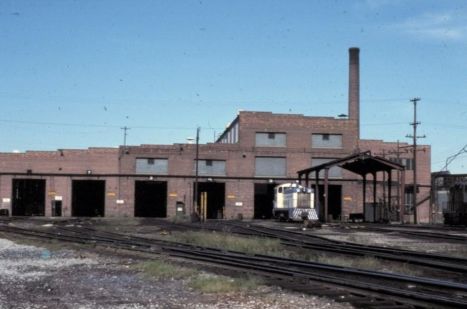 Wyoming Yard was the Pere Marquette's major freight classification yard in the Grand Rapids area. This yard was along their Grand Rapids to Porter, IN main line on the southwest side of the Grand Rapids terminal between Plaster Creek and Lamar. The yard continues to exist
Photo Info: Top, Pere Marquette 58, a switch engine, is photographed at Wyoming yard in 1966. When this photo was taken, ownership of the PM had already been taken over by the Chesapeake & Ohio. [Bill Moore]. Below, the C&O Wyoming Yard shops in 1977. [Charles Geletzke Jr.]
---
Time Line
1905. The Wyoming shops at Grand Rapids are being constructed, including a main shop building 126' x 333' of brick and steel which contains the machine, erecting, boiler and blacksmith shops. This building is equipped with an overhead electric traveling crane for handling locomotives and smaller cranes for lighter work. The machines are motor driven.
The engine house is 88' x 434' and is constructed of brick and steel and contains twenty-four stalls. It is of the rectangular type and heated by hot air system, which also heats the main shop building.
Between the main shop and engine house is a 70' electric transfer table on concrete foundations. The power house (64' x 92') is built of brick and steel.
There is a brick store house 40' x 150'. On the second floor of this building, provision has been made for the offices of the Mechanical and Store Departments. Sheds, platforms, bins and tracks are provided for new and old material. The oil house (40/ x 40') is of brick construction.
Water is pumped from Grand River to a high steel water tower of 100,000 gallon capacity, by pumps located in the power house.
The PM also installed a new 100 ton capacity track scale here. [PMAR-1905]
1906: A new modern coaling station was erected at Wyoming Yard. [PMAR-1906]
1945. The PM had a 115' three-bearing, electrically operated turntable at this location.