Station: Chase, MI
Chase was settled about 1862 as Greendale or Green Dell. It was the location of a sawmill, broom handle factory and shingle mill. Chase was the county seat until 1874. [MPN] The townsite was located on the Pere Marquette main line about eleven miles east of Baldwin.
---
June 2, 1910. DUE TO HEAT. Rails Spred, Letting Car Down; Another Train Comes; No Danger Signal Posted.
A rear-end collision on the Pere Marquette one-half mile west of Chase, Lake county, at 4 o'clock this afternoon, resulted in the death of Brakeman Verne Hewitt, of Reed City, and fatal injuries to Conductor Egert, of Evart. Both men were on a local freight westbound.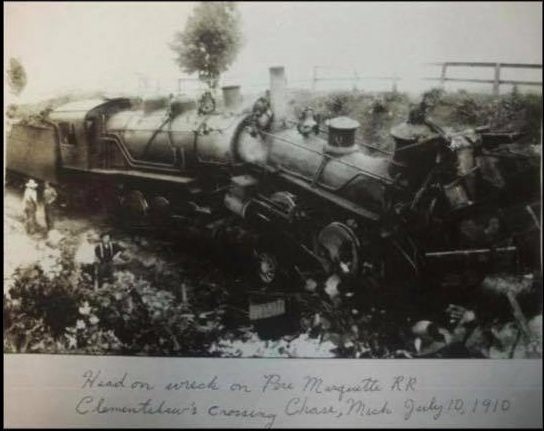 Excessive heat caused the rails to spread and let the local [train go] down. No damage was done then, as the train was not going fast enough to pile the cars. Neglect to post a danger signal accounts for the wreck that followed. A through [eastbound] freight dashed around a curve while efforts were being made to get a car on the track. In the crash the local train was badly demolished. Hewitt was instantly killed and Egert was badly scalded. His recovery seems doubtful. [DFP=7/3/1910]