Station: Luther, MI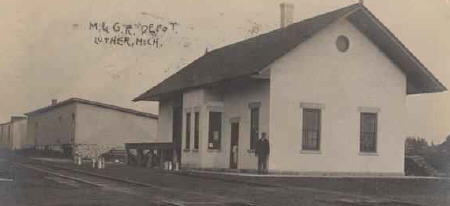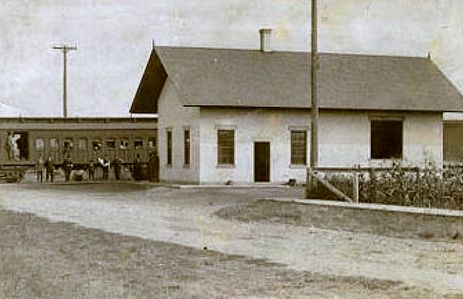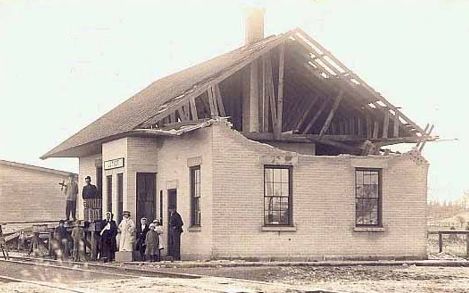 Luther was settled in 1880 as Wilson and renamed Luther in 1881. A sawmill from the Luther & Wilson company was located here. This was a station stop on the Grand Rapids & Indiana railroad. It became a village in 1893.
Photo info/credit: Top, the M&GR depot at Luther. 2nd, the Manistee & Grand Rapids depot and passenger train at Luther. 3rd photo, the depot after being damaged by a storm. [Both, Alan Loftis collection]
---
Comments from Carl Bajema: The turntable pit (depression in 2003) at Luther is on the south side of the former GR&I right of way, just south of the Little Manistee River at coordinates: 44 degrees 02.077N and 085 degrees 41.073W. The first GR&I turntable was at Carey and the GR&I moved this turntable east approximately 3 miles to Luther. Thee is evidence to support the hypothesis that the GR&I east from the Marthinson & White (also known as the Copley & Manistee) narrow gauge -- GR&I standard gauge diamond (located just east of Carey) to the Wilson, Luther & Wilson chemical works on the southwest side of Luther was "dual gauge". Also, the Manistee & Grand Rapids standard gauge railroad crossed State Road on the north side of Luther, just north of the elementary school.
---
1910 - In 1910, the M&GR ran one passenger train each way between Manistee and Marion via Luther. This was likely a mixed train. [OGR]