Location: Addison Junction, MI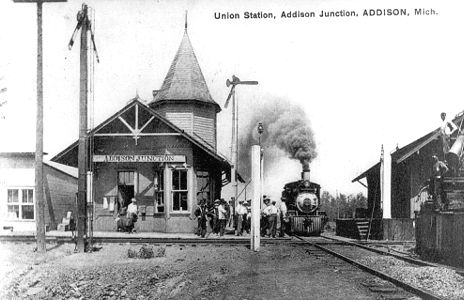 Addison Junction was located about one mile east of the village of Addison in northwest Lenawee County. The junction was the northern terminus of the Cincinnati Northern until 1895 when the line was extended north to Jackson.
The junction was the grade crossing of the west-east Detroit, Toledo & Milwaukee and the north-south Cincinnati Northern railroads. The junction had a station in the northwest quadrant and the crossing was controlled by a manual gate with red lanterns. A freight house was in the northeast corner.
The station's telegraph call sign was "JN". The CN had a passing track holding 18 cars but it was expanded later to hold 65 cars. There was a water tank for filling locomotive tenders and an interchange track. The junction had an elevator with a 1,000 bushel capacity which was owned by the Addison Milling Company.
---
1910's - The station burned down. [HCN]
1923 - 1,619 cars were interchanged back and forth at this location.