Station: South Adrian, MI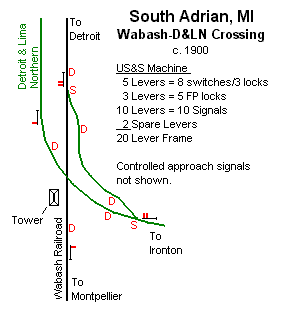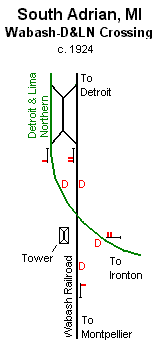 South Adrian was an interlocked crossing of the DT&I main line (later Tecumseh Branch) and the Wabash main line (Detroit to Montpelier, OH) which was located in Madison Township about 1.5 miles south of downtown Adrian.
South Adrian is located south of the City of Adrian and was a crossing of the Detroit & Lima Northern and the Wabash Railroad. The interlocker plan at the right is from October 29, 1900.
In 1924, the interlocker was changed and 4 electromechanical levers were added to the tower. The wye track was removed and a new center interchange track was added (see second diagram below). In 1926 the Wabash double-tracked its main line through Adrian.
In 1930, the tower was removed and replaced by a cabin interlocker. The leverman assigned to the tower was reassigned. The interlocker was now changed by DT&I crews that required passage. At this point, the route received only one train each way per day according to Michigan Railroad Commission plans.
In June, 1932, the approach signals were changed from controlled to fixed-approach. In 1936, the Wabash eliminated a crossover between their two main tracks which had been controlled.
In June, 1941, the cabin was removed and the interlocker was automated. Stop boards and signals were placed on the DT&I, and new signals were installed on the Wabash.
Location: 41o52.901'N / 84o01.352'W.
March 20, 1930: The Michigan Public Service Commission approves the discontuance of the interlocking operator at South Adrian, citing reduced traffic on the DT&I to one train each day in each direction. They approve a "cabin interlocking" scheme where the signals are set to proceed for the Wabash, to be operated by DT&I crews when they wish to cross. Up and until this time, the interlocking tower was staffed by a Wabash leverman. [MPSC-1930]