Crossing: Bimo Junction, MI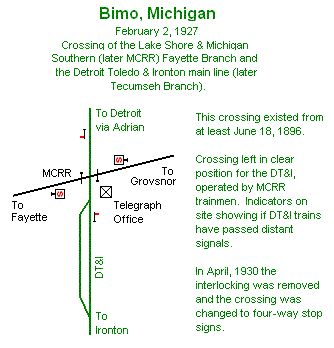 Bimo was settled bout 1896 as a station on the Lake Shore & Michigan Southern. [MPN]
Bimo Junction was the grade crossing of the Detroit, Toledo & Ironton railroad Tecumseh branch (original main line) and the New York Central Fayette Branch. The crossing had very low volume and was protected by stop signs most of its life. The crossing was four miles northeast of Morenci, Michigan.
According to the book Michigan Place Names, Bimo was a station on the Lake Shore & Michigan Southern and had its own post office from 1896 to 1903. The Fayette branch was never more than a 1 train each way per day sleepy branch line. Over the years, it was cut back to Morenci, and then abandoned altogether in the 1980's. The DT&I line was originally the main line for the Detroit & Lima Northern, then the DT&I. But after Ford interests bought the DT&I, they straightened the DT&I's main line, converting this route into a branch line which went north through Adrian to Tecumseh. This was not a busy location at any time, and in fact sat in the midst of farm land.
Location: 41o44.989'N / 84o09.027'W.
---
April 16, 1930: The Michigan Public Utilities Commission authorizes changes in the interlocking here due to minimal traffic on the DT&I since the Malinta cut-off has been put into operation. [MPUC-1930]