Station: Britton, MI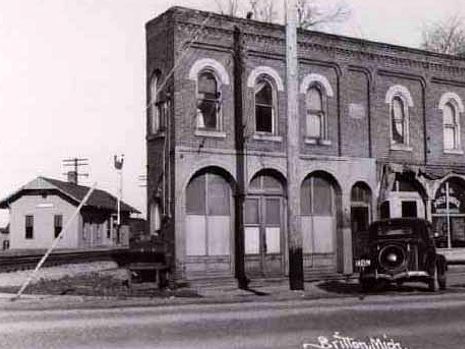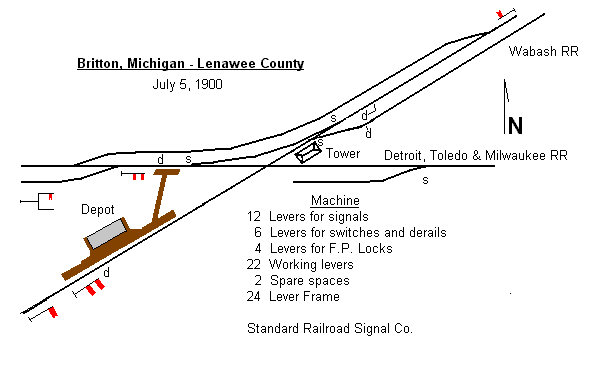 Britton is a small village in northeast Lenawee County which was settled about 1881 as a station stop on the Detroit, State Line and Wabash railroad came through the area. Around 1891 the Detroit, Toledo & Milwaukee railroad came through west to east crossing the Wabash. An interlocking tower was built to control the crossing.
The DT&M was not well utilized and the Detroit & Lima Northern (later DT&I) was given trackage rights on the section from Tecumseh to Dundee (via Britton) to connect their line from Ohio to Detroit. After the DT&I built their own route (the Malinta cutoff) from east of Dundee south through Petersburg and Riga, the DT&M line was no longer used and was pulled up in the late 1920's.
The interlocking tower in Britton was reportedly moved to Milan to control the Wabash-Ann Arbor railroad crossing after the former Milan tower was destroyed in a derailment. It continued to be used until the early 1990's when it was torn down.
Photo Info/Credit: Top, a 1940's photo of the post office in Britton which shows the Wabash depot at the rear to the left. [Alan Loftis collection]. 2nd photo, a map of the track diagram and interlocking at Britton, {Drawn from blueprints in the State of Michigan Archives by Dale Berry]