Interlocking: Britton, MI - XN Tower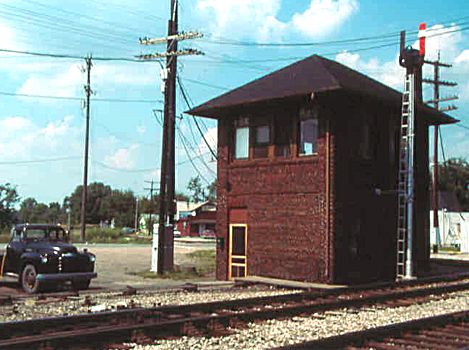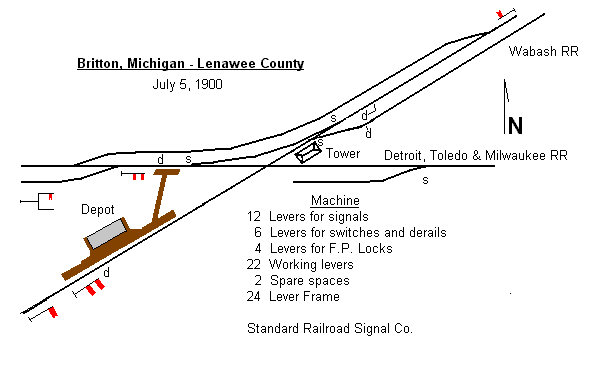 Britton interlocking controlled the crossing of the Wabash main line (Detroit to Montpelier, OH) and the Detroit, Toledo & Milwaukee main line (Allegan to Dundee) in the Village of Britton in northeast Lenawee County. The crossing was created about 1891 when the DT&M came through, crossing the Wabash which was built here in 1881. The interlocking tower was installed about 1900.
Photo info/credit: Top photo, the interlocking tower at Milan (shown here) was the tower which previously served at Britton. It was moved to Milan after its need a Britton was eliminated. [Charlie Whipp]. 2nd photo, a drawing of the interlocking about 1900. [Drawn from blueprints in the State of Michigan Archives by Dale Berry]
At some point in the 1920's, the New York Central (successor to the DT&M) leased the line from Tecumseh to Dundee via Britton to the Detroit & Lima Northern and later DT&I. Though still under NYC ownership, the segment east of Tecumseh was dispatched by the DT&I according to NYC timetables of the period. The DT&I discontinued use of this line segment after the Malinta cutoff and short cut was placed in service under Ford control.
After abandonment by the DT&I, the line was pulled up and the tower was reportedly moved up the Wabash line to Milan after the tower there was destroyed by a railroad derailment. It was used until the early 1900's when it was torn down.
---
December, 1912. AUTOMATIC BLOCK SIGNALS ON THE WABASH. The Wabash began work during the latter part of November on the installation of 45 miles of double track automatic block signals on its line between Milan and Delray, Mich, and between Milan and Britton, Mich. This covers the new double track, part of which is now in service. The Union Switch & Signal Co.'s Style "S" signals are to be used throughout the installation except at the interlocking plants at Oakwood, Romulus, Milan and Britton, where the Style "T" signals will be employed. The installation will be direct current, the signals operating on primary battery of the Gordon type. The interlocking plants will be equipped with indicators and annunciators and route locking, with back locks on the distant signals. The automatic signal work will be done by the Wabash's forces under the supervision of L. Parnell, general foreman. The interlocking work now under way comprises the reconstruction of the interlocking plant at Milan, Mich, which will result in the installation of a Union Style "S" electro-mechanical machine. [TSE-12/1912]
June 11, 1930: The Michigan Public Utilities Commission allows the Wabash Railroad to reduce staffing of this tower to one trick, from 8:00 a.m. to 4:00 p.m., on account of the NYC operating only three trains each way three times per week. The MPUC further orders the signals set to proceed for the Wabash when the tower is not manned. [MPUC-1930]