Station: Hudson, MI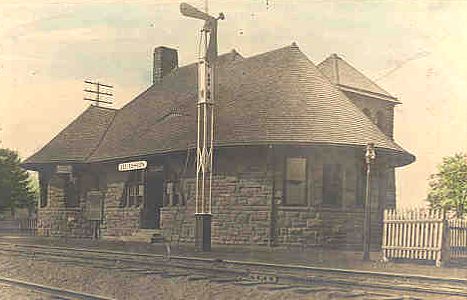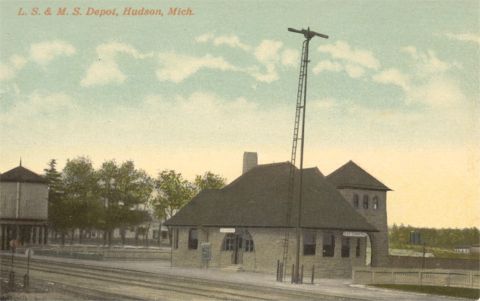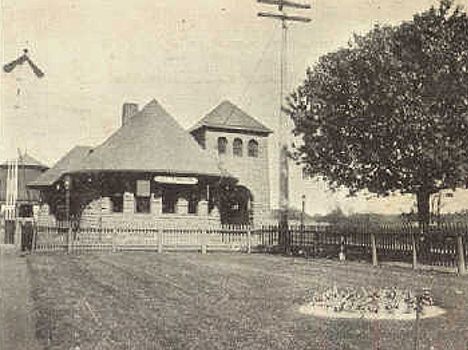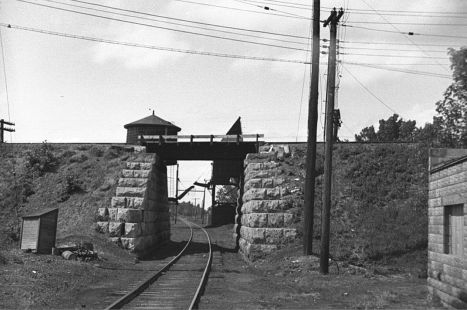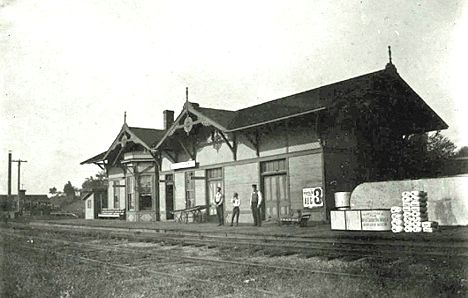 Hudson was settled on the very western edge of Lenawee Couty about 1833 and called Bean Creek. It was renamed Lanesville in 1836 and Hudson in 1840. The town became a village in 1853 and a city in 1893. [MPN]
The "Southern" line of the State of Michigan came through here first and was purchased by the Michigan Southern railroad, a private interest. It later became the Michigan Southern & Northern Indiana, then the Lake Shore & Michigan Southern, and in 1916 it became part of the New York Central system. The Lake Shore established a beautiful stone depot here with conical roofs and a tower.
The north-south Cincinnati Northern had a small eight track yard here and also had water and coaling facilities for its locomotives. There was also a stock handling facility on the CN with capacity for four double deck stock cars. Stock could be fed and watered here. A 4,000 bushel capacity elevator was on the CN line and owned by the Cutler-Dickinson Company. The CN also served the Pet Milk Company, Hackett Coal Company, Hardie Manufacturing Company, Porter Lumber Company and a scrap metal site.
The Cincinnati Northern came through later with its north-south route between Ohio and Jackson. It crossed over the top of the LSMS on a small bridge (see photo). There apparently was never a physical connection between the two lines, both of which eventually fell under NYC control.
Photo Info/Credit: Top, an early view of the Lake Shore depot. 2nd photo, the LSMS depot in a postcard view. [Dale Berry collection]. 3rd photo, the same depot in another view with the water tower. [Alan Loftis collection] 4th photo, the crossing of the two lines, CN below and LSMS on top. Note the CN coaling station and water tower in the background. [Doug Leffler collection] 5th photo, the Cincinnati Northern depot at Hudson. [Alan Loftis collection]
Hudson had two water towers, one on the Old Road and one on the CN Jackson branch. The CN also had a coaling tower here.
---
August 6, 1914. Train Derailed North of Hudson, Deaths. Engineer A. L. Baldwin of Jackson was killed and Fireman Harry Randall of Vandewert, O., fatally injured Saturday afternoon when the "cannon ball" train on the Cincinnati Northern railroad left the track about two miles north of Hudson. The engine and tender were hurled from the track and overturned, while the rest of the train and two coaches remained upright but derailed.
Baldwin was flung from his cab into a nearby field and was picked up dead. Randall's collarbone was broken, and he was badly cut about the head. A broken rail is believed to have caused the accident. The engine was running backward, but at the head of the train, when the accident occurred. There were but four passengers aboard and these helped load the dead and injured trainmen in autos for Hudson. Engineer Baldwin was one of the oldest engineers in point of service on the Cincinnati Northern. He was 60 years old. Randall is 40. [Yale Expositor]
---
November 2, 1922. C.N. Bridge at Hudson is Nearing Completion. The Cincinnati Northern railroad bridge over Bean Creek east of the water works station, which has been under construction since spring, is nearing completion. Contractors put in two cement piers, two abutments and sides of the bridge, and then the work was turned over the railroad for completion. As a covering for the piers, six great concrete slabs to span the opening from pier to pier were put into place by the largest railroad derrick available, the work being accomplished Saturday and Sunday. Each of the concrete slabs weight 40 tons and was reinforced with two tons of steel. The crevices between the slabs are now being filled with concrete, uniting the entire covering. The work will be completed with gravel, ballasting and laying of ties and rails. [Battle Creek Enquirer]