Interlocking: Raisin Center, MI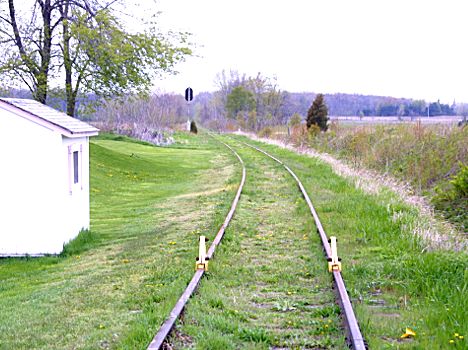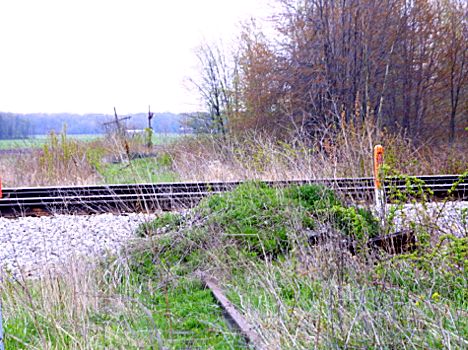 Raisin Center was the grade crossing of the Wabash main line (Detroit to Montpelier, OH) and the Lake Shore & Michigan Southern Jackson Branch (Lenawee Junction to Jackson). The crossing was located near the center of Raisin Township, between Adrian and Tecumseh in Lenawee County.
This crossing existed as early as the 1880's. It had an interlocking tower as early as 1890. The tower had a US&S interlocking plant with 10 levers (2 switches and locks, 8 for signals and derails). [MSA-IF]
It appears that this crossing never had wye tracks or other connections. It was a straight-up crossing.
At some point, it was made into an automatic interlocking, with the first train on the track circuit receiving a proceed signal.
After the creation of Conrail, the Jackson Branch was sold to the Southern Michigan Railroad Society. The line was unused prior to this transaction and the Norfolk & Western pulled the diamond up at Raisin Center, separating the society's track segment at this location. The Society was unsuccessful in having the crossing reestablished.
Photo info/credits: Two photos from 2002 at Raisin Center. The first looking north on the former LSMS Jackson Branch towards Tecumseh. Note the southbound signal which has been restored by the Southern Michigan Railroad Society, the owner of the branch. The 2nd photo looks south towards Lenawee Junction. You can see the remnants of the northbound signal. [Dale Berry]
Location: 41o54.845'N / 83o56.702'W.
---
1927. The Wabash installs a new automatic interlocker at Raisin Center. [RCE-1928]