Crossing: Tecumseh Junction, MI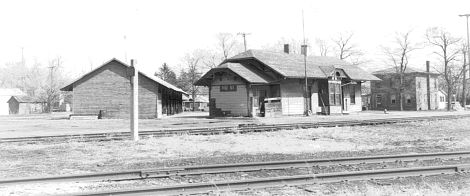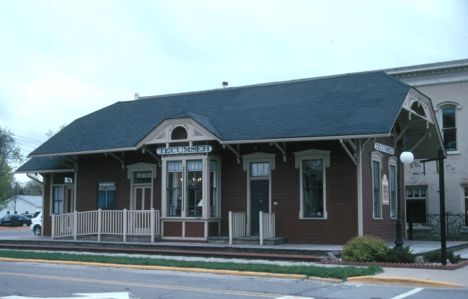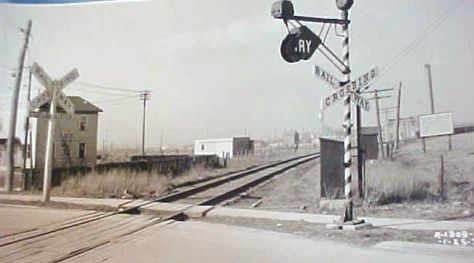 Tecumseh Junction was located at the intersection of S. Evans Street and Cummins Street, just south of downtown in the City of Tecumseh. The Junction was the crossing of the north-south Lake Shore & Michigan Southern Jackson branch and the west-east Detroit, Toledo & Milwaukee railroad. The Detroit, Toledo & Ironton also used the DT&M under trackage rights from their connection which was just west of this crossing.
The crossing never had any type of interlocking. In 2916 it was protected by a gate.
This former train depot is one of very few reminders of Tecumseh's railroad heyday. As one of two depots in town, it was known as the South Depot and built in 1895 at South Evans and Cummins, at the diamond of the Lake Shore & Michigan Southern and the Detroit, Toledo & Milwaukee. The Detroit, Toledo & Ironton also may have used this depot as well. It should be noted that the Lake Shore's main Tecumseh Depot (the "North Depot") was located where St. Peter's Church sits on Evans between Shaunee and Bidwell. The South Depot (above) was closed to passenger and freight traffic by 1930. It was sold to private owners and in the late 1980's moved to its present site on M-50 in town. Information from Cynthia Given, Southern Michigan Railroad Soceity. The photo above was taken in April, 2002 [Gary Daniels] Below, the depot in its location in the northwest corner of the crossing at Tecumseh Jct. The DT&M built depot was originally reported as on Maumee Street and was moved to this location and used by the Detroit, Toledo & Ironton Railroad when it ran on the DT&M in the 1910's and 1920's. The depot may have also been used by the Lake Shore as a transfer point. The Lake Shore's official Tecumseh depot was near North Yard, about 1/2 mile north of the DT&M crossing. [Photo by Kirk Hise, courtesy of Cynthia Givens, Southern Michigan Railroad Society]
The Lake Shore & Michigan Southern had a water tower at Tecumseh Junction in 1926. [NYCtt1926]