Station: Hamburg, MI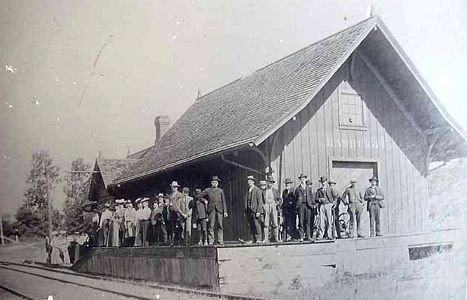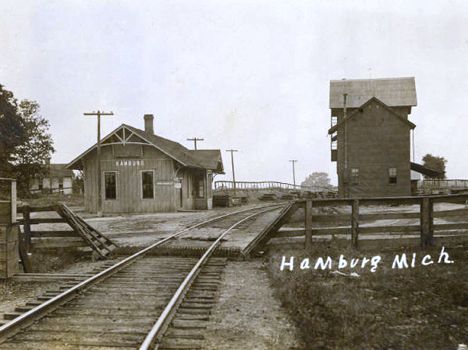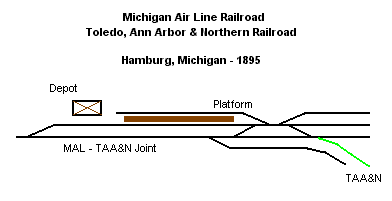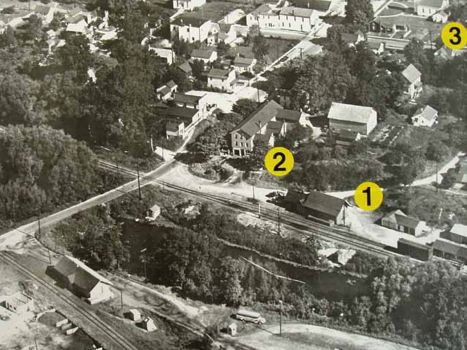 Hamburg was settled about 1835 in Livingston County and was the location of a dam and sawmill. [MPN] The town was served by two parallel railroads, the GTW Jackson Branch and the Ann Arbor railroad.
The first railroad to be built through Hamburg was the Michigan Air Line Railroad. This route was initially planned from the St. Clair area, through Pontiac, Jackson, Three Rivers and Niles as a through route from Ontario to Chicago. The railroad was split up and parceled out before it reached its goal. The Pontiac to Jackson portion of the route was taken over by the Grand Trunk Railroad.
A second railroad was built through here in the 1880's and was the predecessor to the Ann Arbor Railroad. The Toledo, Ann Arbor and Northern Railroad ran northwest from Ann Arbor, through Whitmore Lake, Hamburg and Howell, on its way to Durand, Owosso, Cadillac and Frankfort.
The original route (shown on the map) joined the MAL near the depot, and used the MAL west about one mile to a point known as Hamburg Junction. The TAA&N then left the MAL going northwest towards Howell.
Later, the TAA&N requested and received permission from the Michigan Railroad Commission to build its own line from Hamburg (south of the MAL) to Hamburg Junction (later renamed Lakeland), where it crossed the MAL at grade. An interlocking plant and tower, known as "Lakeland", was installed to regulate traffic at the crossing.
Photo Info/Credit: Top, an early photo of the GTW depot at Hamburg. 2nd photo, an early photo of the Ann Arbor railroad depot at Hamburg. [Both, Alan Loftis collection]. 3rd photo, a map of Hamburg from 1895 drawn from blueprints in the State of Michigan Archives. [Dale Berry]. 4th photo, an overhead view of Hamburg. The depot marked "1" is the GTW depot. The building marked "2" is the Hamburg motel. The unmarked Ann Arbor railroad depot is in the lower left corner of the photo. [Alan Loftis collection]
---
1918. The AARR had a day station agent here, as did the GTW. [TRT]