Station: Greenville, MI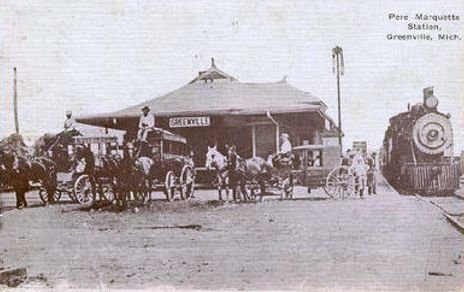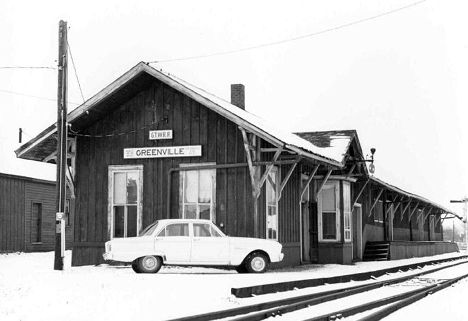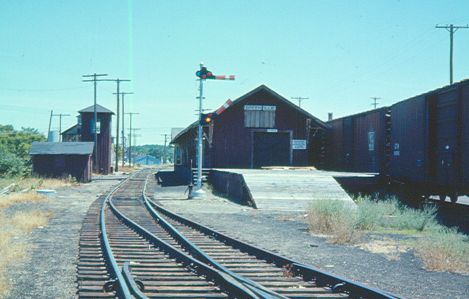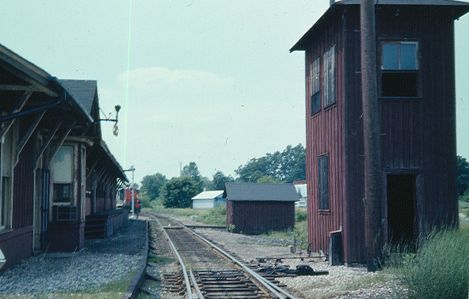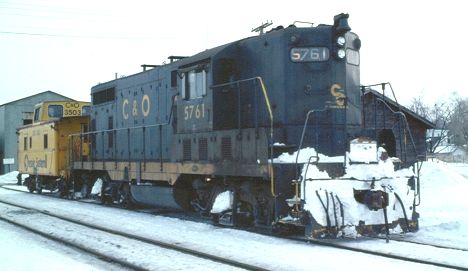 Greenville was settled in Montcalm County about 1844. It became a village in 1867 and a city in 1871. [MPN] Greenville was an important junction point on two railroads and served as a junction for a third line.
The north-south Pere Marquette branch line from Elmdale to Saginaw (via Stanton, Edmore and Alma) crossed the west-east Grand Trunk Western branch line between Ashley and Muskegon here. Another PM branch line from Greenville to Howard City began here.
Photo Info/Credit: Top, the Pere Marquette station at Greenville with a passenger train along side. Local dray carriers are picking up passengers and freight. [Alan Loftis collection]. 2nd photo, a 1970's photo of the Grand Trunk Western depot at Greenville. [Charlie Whipp]. 3rd and 4th photos, 1973 photographs of the depot and interlocking tower in Greenville. This is an example of one of the most simple interlocking towers in Michigan. There is one pipe protruding out of the base of the tower to control the switch for the PM or GTW. The tower probably also controlled the two-aspect signal on the other side of the depot which is set for a diverging route. Most simple interlockings in Michigan were actually ground interlockings (with levers at ground level). [Greg Bunce]. 5th photo, the C&O Greenville switcher (C&O 5761, a GP-7) and caboose in March, 1979. [Greg Bunce]. 6th photo, C&O 5797 with a train near Greenville engine house in October, 1978. [Charles Geletzke Jr.]
---
Timeline:
1878 improvements: The DL&N built a new water-station and windmill at Greenville. [DL&N-1878]
1882 improvement: The DL&N finished a new station here. [DL&N-1882]
1889 scales. The scales at Greenville were taken up, repaired and restored. [DL&N-1889]
1890 improvements. The DL&N freight house was repaired; a new foundation was put under the water tank, and a pump house was built with a new pump put in. [DL&N-1890]
The DL&N builds a new potato house here in 1891. [DL&N-1891]
1909 station: The PM built a new station here in 1909. [PMAR-1909]
1917. The GTW had an agent here as well as a day operator. [TRT]