Station: Howard City, MI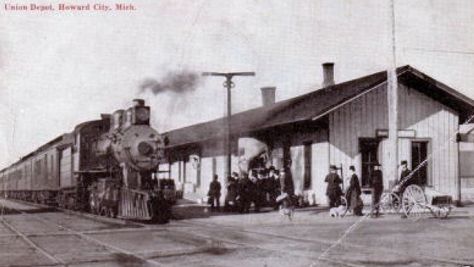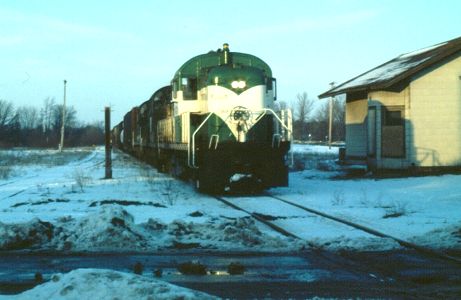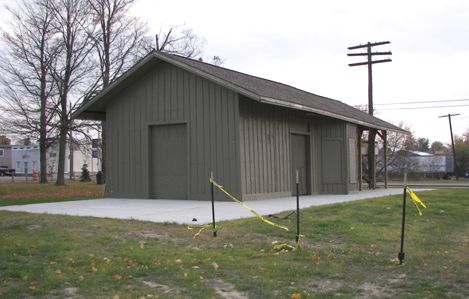 Howard City was settled about 1868 and the Detroit, Grand Rapids & Western built to here from Detroit in 1869. The town was incorporated as a village in 1873.
There were obviously high expectations for Howard City in the 1860's as the railroad line from Detroit built west to here (via Grand Ledge and Ionia) instead of Grand Rapids. Later, a different line was built due west from Grand Ledge to Grand Rapids (via Lake Odessa) and this route was reduced to a branch line. Likely, lumbering and forest products had an impact on this area in the early years.
In May, 1872 the depot and railroad facilities of the Detroit, Lansing and Northern were destroyed, including the engine house. [AArgus-5/14/1872]
Photo Info/Credit: Top, the Grand Rapids & Indiana depot at Howard City. The station semaphore is set for this passenger train which is arriving at the depot. 2nd photo, another old photo of this depot. 3rd photo, Michigan Northern 1501, 1554 and 2037 lashup is southbound at Howard City in December, 1977. [Greg Bunce]. 4th photo, the remodeled former GR&I depot in 2005. [Alan Loftis]
Posted by contributor Gene Zank on the RRHX bulletin board on 1/6/2006: The predecessor to the Pere Marquette Railroad had few facilities at Howard City. A small roundhouse and turntable were probably used until about 1887 or 1888, and a small yard. The depot was shared by the GR&I (and later the Pennsylvania Railroad) until 1943 when the Pere Marquette abandoned the line east to Lakeview.
---
1890. The DL&N erected a new water tank and stand-pipe, and made repairs to the engine house and stock yard. [DL&N-1890]
---
Roundhouse damage - 1898 - This place was visited with a very hard wind storm this afternoon, which unroofed the Detroit, Grand Rapids & Western railway's roundhouse and blew down fences and shade trees. [DFP-1o898-0608]