Station: Lewiston, MI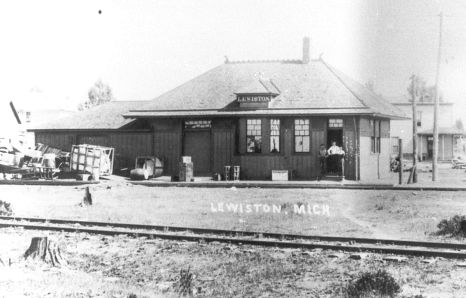 Lewiston was settled in southwest Montmorency County about 1892 when the area forests were cut for pine. [MPN] The Michelson & Hanson Lumber Company established a mill and general store here. After pine was harvested, the area turned to the hardwood trees in the area which continued to be logged until the late 1920's.
Lewiston was the furthest Michigan Central railroad station northwest from Grayling on this branch, however numerous branch lines extended north and east from here into the forests. The town was also served by a narrow gauge line from Oscoda County which later became a part of the AuSable and Northwestern railroad.
Photo Info/Credit: Top, the Michigan Central depot at Lewiston. [Dale Berry collection]
---
Industry:
Kneeland & Bigelow
Michelson & Hanson Lumber Company
Michigan Home Colony Co.
Saling Hansen & Company