Station: Lewiston, MI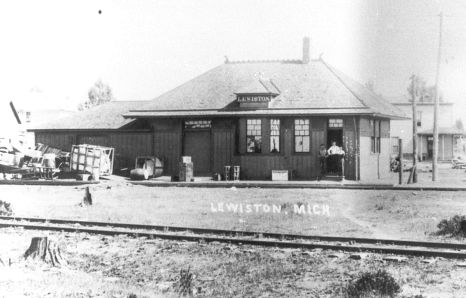 Lewiston was settled in southwest Montmorency County about 1892 when the area forests were cut for pine. [MPN] The Michelson & Hanson Lumber Company established a mill and general store here. The town was named after Lewis Jenson, a bookkeeper for a local lumber company. [LITF]
Two mills were constructed here, one a sawmill and one a planing mill, both at East Twin Lake. These mills employed 150 men. M&H also built three hotels to accommodate employees and their families. They also built a general store, several restaurants, saloons and even a house of ill repute to entertain the restless lumbermen. [LITF]
In 1910,. M&H left Lewiston when the pine forest was near depletion. Between 1910 and 1916 a series of fires destroyed much of the original two blocks of downtown Lewiston.
After pine was harvested, the area turned to the hardwood trees in the area which the Kneeland-Bigelow Company continued to be logged until 1929. The first K-B camp was located file miles north of Lewiston. A second camp was located at Gaylanta and became their temporary local headquarters. Later, their permanent headquarters were established in the K-B Valley, nine miles west of Atlanta. All timber was shipped by the Michigan Central Railroad to Bay City were the main office and two sawmills were located.
Lewiston was the furthest Michigan Central railroad station northwest from Grayling on this branch, however numerous branch lines extended north and east from here into the forests. The town was also served by a narrow gauge line from Oscoda County which later became a part of the AuSable and Northwestern railroad.
Photo Info/Credit: Top, the Michigan Central depot at Lewiston. [Dale Berry collection]
---
Industry:
Kneeland & Bigelow
Michelson & Hanson Lumber Company
Michigan Home Colony Co.
Saling Hansen & Company