Station: Trout Creek, MI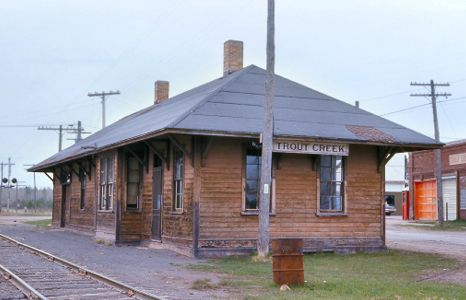 Trout Creek was a station on the Duluth, South Shore & Atlantic railroad, settled about 1888. It is located about three miles east of Agate Falls in southern Ontonagon County.
Located at milepost 239.1 in Section 12, T48N-R38W. [DSSM]
Photo Info/Credit: Top, the Soo Line depot at Trout Creek. 1970's. [Rob Kitchen]
---
Timeline:
1890. The station at Trout Creek was built on Garner Street about 1890. [UPM]
1907 - The DSS&A had a water tower and coal chute just east of Trout Creek. [SSP1907]
1915 - DSS&A constructs a new coaling station at Trout Creek. [RR-1915-0220]
1918. The DSS&A had an operator/agent and assistant here during the day shift. [TRT]
---
Industry:
Trout Creek Lumber Company mills.