Station: Waters, MI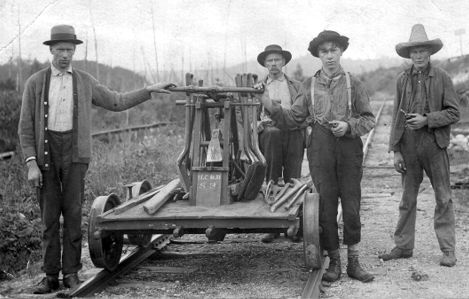 Waters was settled about 1873, the location of a sawmill settlement. The railroad came through and established a station in 1876. This town, in southern Otsego county is at the northern end of Bradford Lake and was called by that name until 1885. [MPN]
The town was created by the Wright-Wells lumber Company. It is located about 10 miles south of Gaylord.
Photo Info/Credit: Top, a Michigan Central section crew poses with their hand car somewhere near Waters. [Mark Worrall collection]
---
Timeline:
1917. The MC had a agent/operator here around the clock. [TRT]
---
Industry:
Henry Stephens Lumber Company. Waters was the headquarters of the Henry Stephens Lumber Company lumber yards, just south of town on Bradford Lake. The yards were served by the Michigan Central which had dozens of yard tracks here. For further information, CLICK HERE and to to pages 8 and 9 of the linked Sanborn Insurance maps.