Station: Ottawa Beach, MI (Ottawa County)
Ottawa Beach Resort was organized in 1886 as a resort on Lake Michigan east of Holland. [MPN] It was reached off a Chicago & West Michigan (later Pere Marquette) branch line.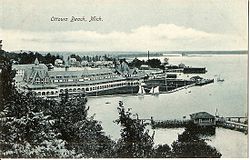 The resort was located in Park Township near Holland, this resort was developed in 1888 by Grand Rapids investors, including the Chicago & West Michigan railroad. The resort included cottages and a hotel. The C&WM and later PM owned the hotel. An early cottage owner included the President of the C&WM railroad. The PM railroad sold the hotel and resort property in 1913. The hotel burned in 1923 and was not rebuilt. The property turned into Holland State Park. [Wiki]
Photo Info/Credit: An early postcard view of the hotel at Ottawa Beach and other amenities.
---
1901: The Pere Marquette built a hotel here to accommodate Chicago and Indiana residents seeking a resort.The resort made a 6% profit during its first year. The hotel included a water and electric power plant. [PMAR-1901]