Station: Onaway, MI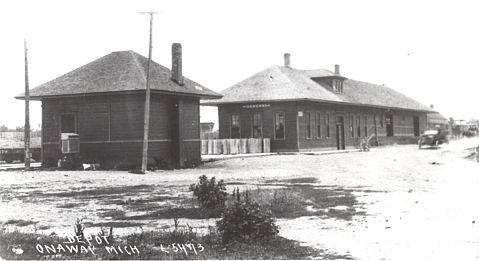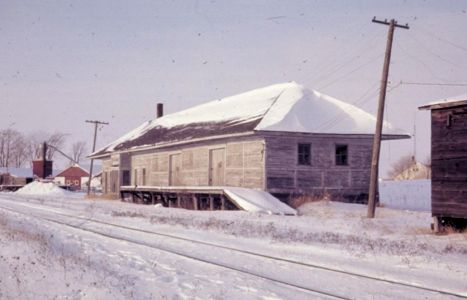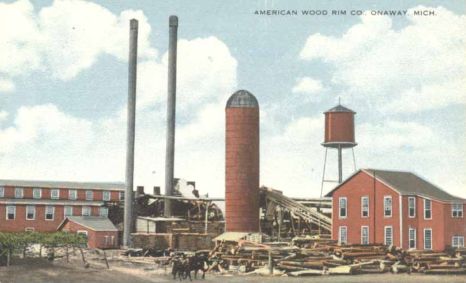 Onaway was first settled about 1882 and called Shaw. A village was platted called Onaway in 1886. The town was incorporated as a village in 1899 and became a city in 1903. [MPN]
Onaway was served by two railroads. The major road was the Detroit & Mackinac railroad which came through here from Alpena enroute to Cheboygan. The D&M had many forest branch lines around the turn of the century. It also built a branch from here north to a gravel quarry near Black Lake.
The second road here was the Onaway & Northern which was a short line which ran north and south of the D&M. The O&N brought hardwoods in from the forest to the American Rim Co. and other industries in town. It reportedly used "dummy" locomotives, which are small switchers which hauled a tank of water over the boiler.
American Wood Rim used hardwood to make steering wheels and tire rims for the early auto industry. It put Onaway on the map as "The Town That Steers The World". The plant burned down and Onaway immediately lost about half its population.
Photo Info/Credit: Top, the D&M depot and freight house at Onaway. [Dale Berry collection], 2nd photo, a winter view of the depot in 1969. [Charles Geletzke Jr.]. 3rd photo, a postcare voew of the American Wood Rim Company in Onaway.
April 29, 1903. Fire threatening. The New York Times reported that forest fires threatened the destreuction of the city. "In every direction the woods are ablaze." Citizens fought the flames to keep them from the lumber yards and plant of the Lobdell & Bailey Manufacturing Company, the town's principle employer. High winds from the southwest prevailed. Log trains were kept busy all night bringing in people rescued from the fire along the track. The smoke is so dense as to be suffocating and the sun's rays glow dimly through it, casting a yellow shadow. Burned cinders and charred embers fill the air. Unless night falls tonight, the result will be serious. [NYT-4/30/1903]
---
External Article: The History of Onaway