Station: Fordney, Saginaw, MI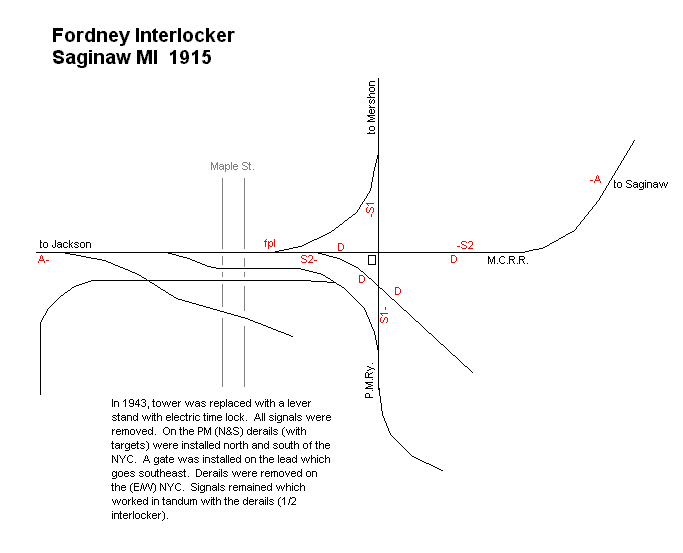 Fordney was a location on the south side of the City of Saginaw. The PM Saginaw Belt Line (N-S) crossed the MC/PM (E-W) line which ran between Paines and the west side of Saginaw. An interlocking tower was located here at the crossing of the several railroad lines.
The MC line through here (originally the Jackson, Lansing & Saginaw) was built in 1867. The Belt Line was built by the Flint & Pere Marquette in 1888. the crossing was named after Joseph W. Fordney, U.S. Congressman and a lumberman who had mills near this location.
From the beginning, this crossing was protected by an interlocking tower. The interlocking machine was of US&S manufacturer, and used the "wheel" method to set switches, locks, derails and signals. (See MAL crossing in Jackson County for a description of this unique form of interlocking). Five wheels were used to control six derails, six locks, as well as four "signals and indicators". [SMA-IF]
According to blueprints in the State Archives, the tower here was removed about 1943 and replaced with a stand-alone ground machine worked by train crews wishing to cross the MC Jackson Branch.
The PM Belt Line was removed around 1960 and the tower discontinued by this time.
Location: 43o24.470'N and 83o58.815'W. Northwest of S. Michigan Avenue and Stewart Street, Saginaw.
Photo Info/Credit: Map, drawn from a blueprint at the Michigan State Archives, c. 1915. [Dale Berry]