Interlocking: Mershon Tower, MI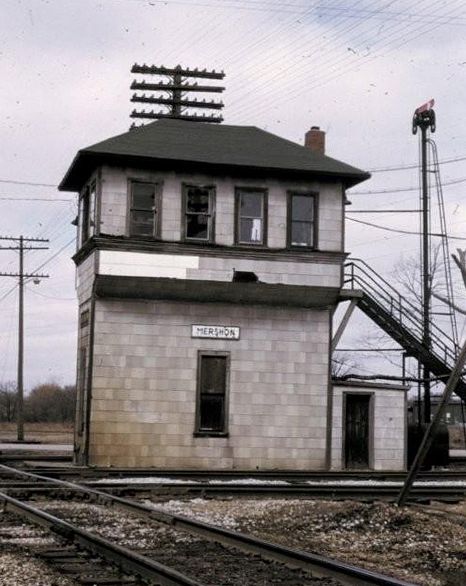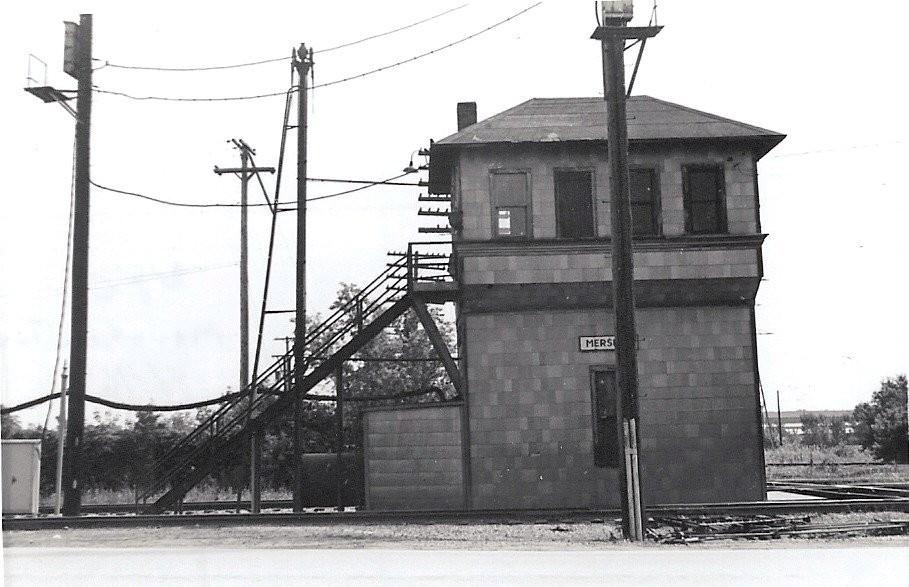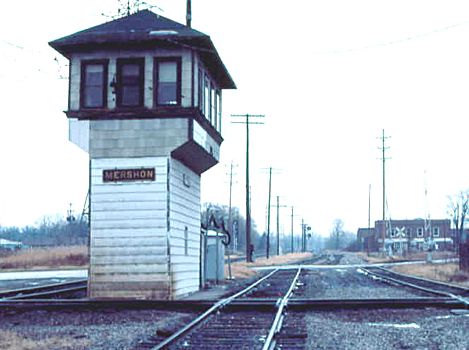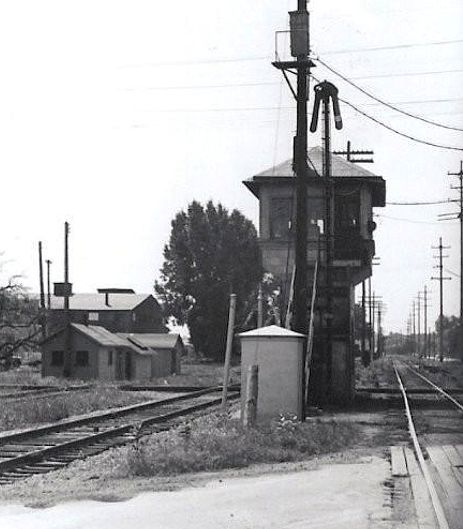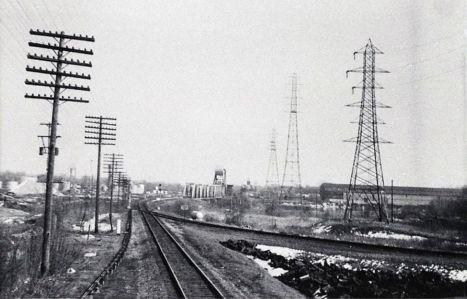 In 1867, two railroads came to the west side of the Saginaw River. The Flint & Pere Marquette crossed the Saginaw River and built northwest towards Midland and Ludington. In December, the Jackson, Lansing & Saginaw built north through Saginaw on the way to Bay City and Mackinaw City. These two roads crossed at Mershon. Mershon was a village named for a local sawmill owner in 1871. The F&PM built a station here, which was west of the crossing. It is not known whether the JL&S or Michigan Central ever had a station, given the close proximity to their Saginaw station, two miles to the south. The Grand Trunk also built through Mershon about 1890, on their line to Bay City. The date that the crossing was interlocked and the date that the tower was built is not known, but presumed to be before 1900. According to the Saginaw Valley Railroad Historical Society, operation of the tower alternated annually between the Michigan Central and the Pere Marquette until the late 1920's when the PM took over operations permanently. Around 1939, the Grand Trunk discontinued using their own Saginaw River bridge, and obtained trackage rights on the Michigan Central. They resumed use of their own line near Mershon. The interurban line from Saginaw to Bay City also crossed all roads at this location.
The tower was removed in early 1988 and was reconstructed at the Saginaw Railway Museum.
Mershon was named after W B. Mershon, a land owner in the area who also had lumber mill operations (W. B. Mershon & Co.) near the crossing on the Saginaw River. [SB-1901]
Doug Hefty writes on 12/18/2005: At Mershon, there were gates with crossbucks on the highway crossings, but no flashers. The operator had to gauge by the seat of his plants when to drop the gates, and DROP they did! There were 3 knife switches you pulled out and the gates just dropped down with no warning. You tried to wait until any nearby autos were over the tracks, but sometimes you just had to drop them and listen to the tires screech!
Photo Info/Credit: Top and 2nd, a side view of Mershon tower in 1967. [Charles Geletzke Jr. photo]. 3rd photo, Mershon interlocking tower on Saginaw's west side. This tower had a unique shape to fit it between the main lines of the MC and GTW railroad lines. This photo was taken in February, 1983. [Charlie Whipp]. 4th photo, Mershon Tower in the 1960's. [Charles Geletzke Jr.]. 5th photo, a 1967 view looking east from Mershon Tower towards the Saginaw River bridge. Note the extensive telephone lines on the nearby poles. [Charles Geletske Jr. photo].
---
March 17, 1930: The Michigan Public Utilities Commission approves the substitution of color light signals in place of older semaphore signals at this interlocking. [MPUC-1930]