Station: Paines, MI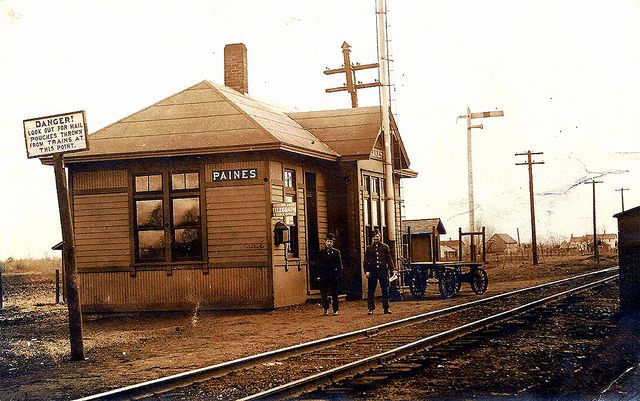 Paines was settled in 1871 and named after the proprietor of a local brick manufacturer. [MPN] This was a junction of the Jackson, Lansing & Saginaw railroad (later MC/NYC/PC) and the Pere Marquette branch which ran west to Alma. The PM had trackage rights on the MC from this location into Saginaw. In 1917, a USGS map also shows another branch line off the joint MC/PM line 2 miles east of Paines, apparently running to three coal mines (See map below). The branch went due south and then west about four miles to a location near Lincoln Corners on the Shiawassee River. The map notes at least three pit mines on the branch, likely early coal mines.
Photo Info/Credit: Top, the Paines depot. The man on the right is in uniform and appears might be a hotel porter. It is unknown whether this is a MC or PM depot, or a union depot.
---
1917. The MC had an operator-agent here on the day shift. [TRT]
---
Posted by Doug Hefty, former C&O dispatcher, on the RRHX bulletin board on 12/24/2005: The C&O had trackage rights from Saginaw to Paines. At one time, there were signals at Paines controlled by the NYC operator at Genesee Street, in Saginaw. The line to the C&O at Paines was a spring switch, normally lined for the NYC. C&O westward trains would need to stop and line it for their movement. When I dispatched in the 1970's, the GTW had purchased the NYC/PC tracks and the signals were removed and the switch was lined and locked for C&O movements. C&O trains needed permission between Mershon and Superior Street. Eastward trains could proceed from Paines up to Superior Street without permission. Our running orders always read "Run Extra Elmdale to junction switch Paines".