Location: Saginaw, MI - GTW Facilities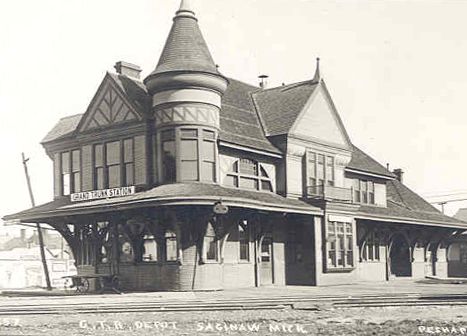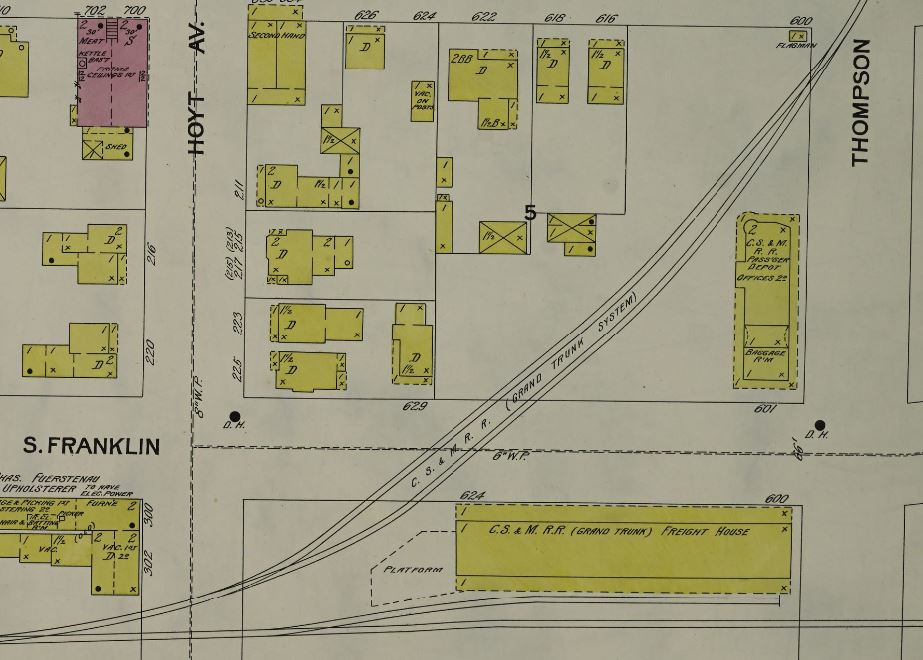 The Cincinatti, Saginaw & Mackinaw (CS&M) railroad came to Saginaw around 1888 and built this ornate station on the southwest corner of S. Franklin and Thompson streets, just north of Emerson interlocking tower. As of 1895, Sanborn notes a CS&M depot on the north side of Genesee just west of the river.
As the 1901 Sanborn map indicates, they also had a larger freight house across the street. [SBM-1901] The railroad was folded into the Grand Trunk system in 1901.
Photo Info/Credit: Top, the GTW depot at Saginaw in the early 1900's. After the 1930's, the Grand Trunk used the Michigan Central depot on the west side of the river. Second photo, a Sanborn map view of the CS&M freight house and passenger station on in East Saginaw in 1901. [SBM-1901] Third, The CS&M (pre-GTW built) three bay roundhouse in Saginaw, which was located west of Jefferson and north of Euclid Street, south of the current St. Mary Hospital complex. Only one bay was used at the time of this photo. [Tim Lab photo]
---
Timeline:
1918. The Grand Trunk had an operator here during two shifts. [TRT]