Location: Saginaw, MI - MCRR Facilities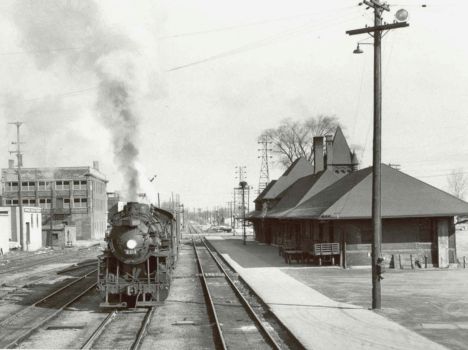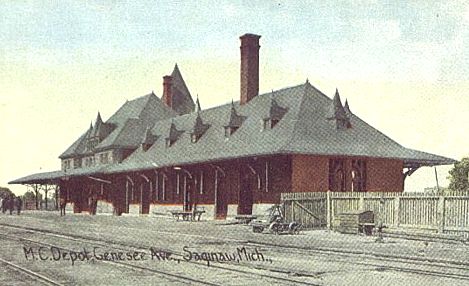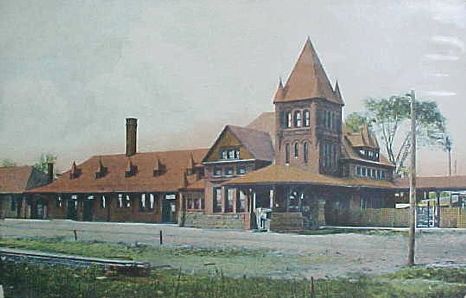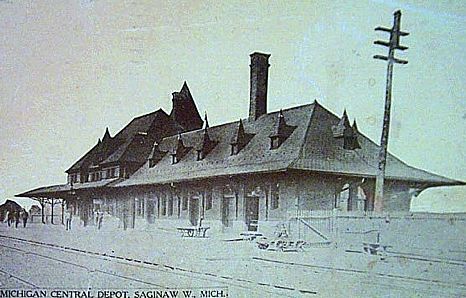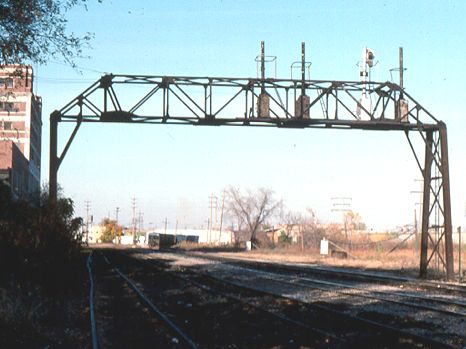 Photo Info/Credit: Top, GTW 8310, an 0-8-0 switcher, passes the New York Central Genesee Street Depot in Saginaw. The locomotive will soon cross the Saginaw River on the NYC's bridge and enter its own yard on the east side of the river. Originally the GTW had its own bridge over the Saginaw River just north of the MC bridge but the tracks were combined in the 1930's and the bridge was removed.
Photo Info/Credit: Top, 1950 photo. [Ernie Novak, Charlie Whipp collection]. Next 4 photos, the Michigan Central railroad depot at Saginaw at various dates. [Alan Loftis collection]. 6th photo, an old signal bridge over the New York Central on the west side of the river. This signal bridge originally controlled at least two of the four railroad tracks, still has one target signal in place. Note the large bases which held the wiring and motors for the former semaphore signals. [Jim Slater]
In 1897, the Michigan Central had a station in West Saginaw at Court Street, milepost 99.99 (from Jackson). This would be one mile south of Southbound Junction. In 1897, the Genesee Street station was known in the timetable as North Saginaw.
---
Automatic Block Signals. For a number of years the Michigan Central railroad had automatic block signals in the Saginaw and Bay City region. ABS was installed on the Bay City branch starting at the Hoyt (PM) crossing and continuing through Saginaw, across the river and north of the Mackinaw Branch all the way to Wenona Yard in Bay City. ABS was also used between Paines and S.B. Junction on the Saginaw Branch. There were also multiple interlockers along these routes, which were shared in some cases by the PM and GTW. [MC ETT 1947].
---
Timeline:
1917. The MC had an operator-clerk here around-the-clock. [TRT]