Location: Saginaw, MI - Pere Marquette Facilities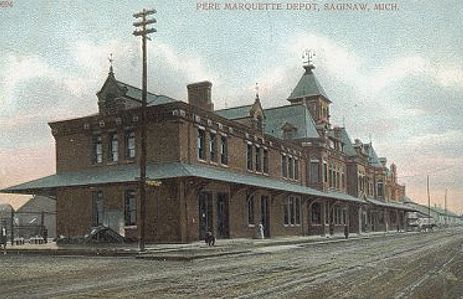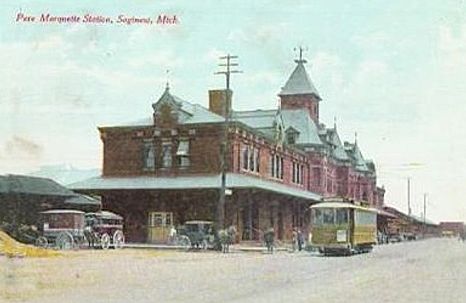 Potter Street Station was Pere Marquette's main station and office building in Saginaw. It was located just east of the PM's Saginaw River Drawbridge and Washington Street Tower.
Information from Doug Hefty: "GO" was the telegraph (teletype) office on the 2nd floor of the Pere Marquette/C&O Potter Street depot in Saginaw. All the messages from the Chief's office across the tracks were sent via a vacuum tube to "GO" and the operator there sent them via teletype to offices so equipped or phoned them for delivery to other locations. These would include High/Wide loads, pick ups, etc. We used to copy quite a few at Kearsley for southward trains. "GO" also kept a file of all the train consists that came in over the teletype and forwarded them as necessary. There would be teletype tape draped all over and we would often feed it into or out of an empty metal wastebasket to keep it from getting tangled up or stepped on! That was really high tech! I'm not sure when "GO" was closed, but I think before 1980.
Photo Info/Credit: Top and 2nd photo, postcard views of the Pere Marquette Potter Street Station in Saginaw.
---
1868 facilities. The second story of the passenger depot at East Saginaw has been finished off for a telegraph office and waiting room for train men. Alterations and improvements have also been made on the first floor for the offices of the different departments. [F&PM-1868]
1907 new facilities. The PM installed a new transfer table, operated by electric power, at their Saginaw machine shop. They also built new stock pens here. [PMAR-1907]