Location: Saginaw, MI - PM Saginaw Yard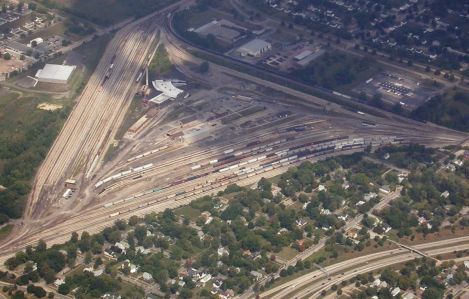 The Pere Marquette railroad had a large, triangular yard on the northeast side of Saginaw. The yard contained three groups of tracks with a roundhouse, turntable, water and coal towers, and car shops in the center.
Photo Info/Credit: A 2005 aerial view of Saginaw Yard in 2005. [Dan Meinhard]. 2nd photo, the East Saginaw Yard in 1877.
---
1868 improvements. Five new stalls have been added to the brick engine house at East Saginaw, doubling the capacity of that building. The boiler room has been enlarged and boilers set in brick work, with steam pipes connected with each of the pits for warming the building.
Improvements have been made to the company's water works at East Saginaw by the addition of three large tanks in the brick engine house, now making five in all, holding 1,467 barrels of water. These tanks are connected together and are supplied from the Saginaw river by a No. 5 Knowles steam pump and boiler. Pipes and valves are attached to the tanks so that locomotives can be supplied with water from either track in the engine house. There is also a six inch delivery pipe from the tanks to the main tank which obviates the necessity of engines coming into the engine house for water, or the expense of tanks and building outside of the engine house.
There has also been one of Knowles' No. 8 steam fire pumps attached to the switching engine in the yard, with 400' of 2.5" 4-ply hose. This gives the Company a steam fire engine of their own, which is always in readiness, and is managed by their own employees without any additional expense to the Company; and we are assured by the agents of insurance companies that our property at this point will be taken for at least one-half the former rates that they were obliged to charge before these improvements were made.
A supply store, 28x36' has been erected and finished for receiving an distributing all supplies for the Company to the different departments.
A copper shop, brass foundry and tin shop has been built from a structure formerly used as a store-room at East Saginaw. We are now able to manufacturer all our copper and tin work and brass castings with greater dispatch, and at less cost, than we could purchase the same goods in the market. We have also built a brick oil magazine (fire proof) for the storing of oils and varnishes at East Saginaw. [F&PM-1869]
A 194' platform and of triangular shape, has been erected at the junction of the main line and the Bay City road for the transfer of passengers and baggage. [F&PM-1868]
1942 - The PM had a 100' electrically operated turntable here, as of 1942.