Station: East Saginaw, MI - Washington Street Station (D&BC/MCRR)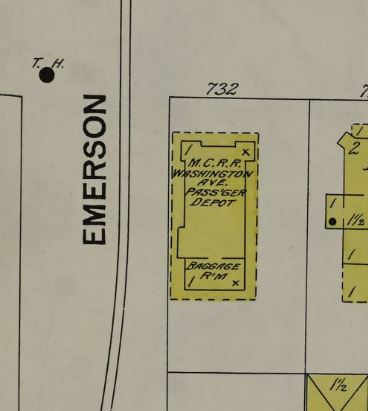 In 1879, the Detroit & Bay City railroad built a "cut off" between Denmark Junction (near Vassar) to Saginaw to connect with the Michigan Central's Jackson, Lansing & Saginaw railroad on the west side of the Saginaw River. This cut off came through Buena Vista, crossed the Flint & Pere Marquette at Hoyt crossing, and into East Saginaw.
A swing bridge was constructed across the Saginaw River to connect with the J&LS at "Southbound Junction".
The D&BC established a passenger depot in East Saginaw, on the north side of Emerson Street at Washington Street. This was a modest sized one story depot and included a baggage room.
Over time, the D&BC (MCRR) eliminated stops here, using the Genesee Street MC station on the west side of the river.
Photo info/credit: An overview of the "MCRR Washington Avenue passenger depot from a 1901 Sanborn map.