Location: Black River Bridge - Port Huron, MI - (PM)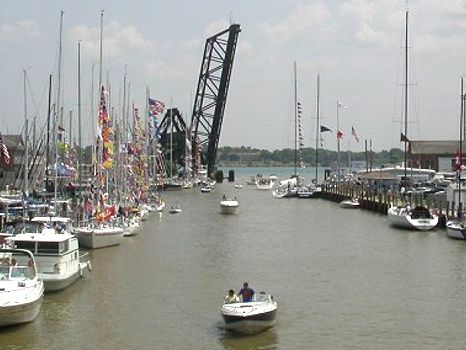 This bascule bridge is near the mouth of the Black River and was used by the C&O and predecessor lines to travel from downtown north towards the thumb area. The original bridge was built in 1859 and then rebuilt by the PM in 1913. The bridge still stands in the upright position though it is no longer connected by rail.
Photo info:
Top - Looking out towards the St. Clair River. 2004 [Dan Meinhard]
Middle - Two additional views of the bridge. 2002 [Dan Meinhard]
Bottom - A view of the bridge and its interlocking tower. [Charles Geletzke Jr.]
The Pere Marquette Black River railroad bridge was located just north of downtown Port Huron. This was a large bascule bridge controlled by an interlocking tower. Though the railroad is long gone, the bridge continues to exist and is a landmark for boaters looking for Port Huron and the nearby docks.
Comment from Doug Hefty: The Black River Bascule Bridge in downtown Port Huron was not regularly staffed. Around 1970, an operator would drive to the bridge control tower from Saginaw, for the purpose of lowering the bridge for the night train. This gave the train head room to double the inbound train into the yard tracks at Port Huron yard. The C&O later discontinued using the bridge and the crews would set off part of their train at 16th street siding. This made it small enough to double over without using the bridge.
Comment from T. J. Gaffney: The track from the north end of Port Huron to just south of Crosswell was removed in 1971. After Peacock Lumber on Holland Street burned and the Port Huron Fruit House stopped getting shipments, there was no reason for the C&O to go north beyond the Black River bascule bridge. I have some photos of the track being taken out of Pine Grove Park about 1973-74. I understand that the bridge was still operable (to get extra room for switching the car ferry) as late as 1978, although the last confirmation I have of it moving is 1973.
---
Time Line
1889. October 20. The new iron bridge for the Black River on the new F& PM line into Port Huron is on the spot and it is expected that two weeks will be consumed in putting it in place. It cost $50,000. [DFP-1889-1020]
1898. The employee timetable, it was noted that this bridge had a light in the center on top of the bridge which was white when the bridge is in position to cross, and red when it was open. The drawbridge was also protected by signals. Trains were limited to 10 mph.