Station: Burr Oak, MI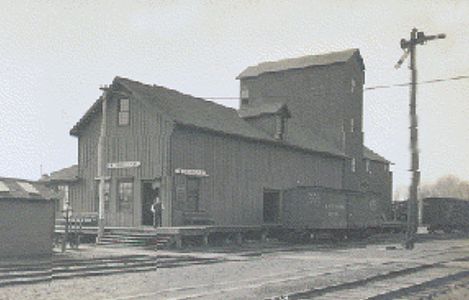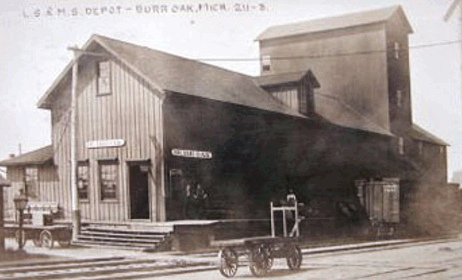 Burr Oak, in St. Joseph County, was settled about 1835. The original Michigan Southern station was named Lock's station after a local land owner, but changed to Burr Oak in 1857. The town was incorporated as a village in 1859.
Burr Oak was located about five miles east of Sturgis and was located on the Lake Shore & Michigan Southern's "Old Road" line, which was the original line between Toledo and Chicago via Adrian and Hillsdale.
Photo Info/Credit: Top and 2nd photo, the Lake Shore depot and elevator at Burr Oak. [Alan Loftis collection]
---
1875 Robbery. On the LS&MS railway, between Burr Oak and Sturgis, five tramps boarded a freight train and robbed a railway hand riding in the caboose, and departed. The train was laboring up a heavy grade and the conductor was riding on the engine. As soon as the attack was made one of the brakemen set a brake, which nearly stopped the train, and informed the conductor that something was amiss, and he returned to the caboose just as the robbery had been committed, and the robbers had jumped from the train. He covered the party with his revolver, and compelled four of them to return to the train.
The other one was caught by the section hands, and at Sturgis they were handed over to the authorities of St. Joseph county. [HS-1875-1116]