Station: Centreville, MI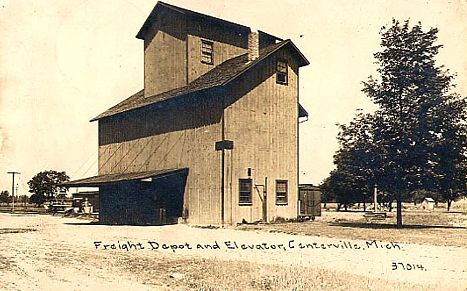 Centreville was settled with a tavern about 1830. In 1831 the county seat of St. Joseph County was established here. The town was incorporated as a village in 1837.
Centreville, which was near the center of the county, later received rail service from the Michigan Air Line railroad (later MC/NYC/PC) on their line between Jackson and Niles via Three Rivers.
Photo Info/Credit: Top, the Michigan Central freight depot and elevator at Centerville. [Alan Loftis collection]
---
1917. The MC had an operator-agent here around-the-clock. [TRT]
1920 - On the Michigan Central Air Line, this is a passenger, freight and express agency joint with the American Railway Express Company. Interline tickets are issued. T. A. Pendleton is the agent. The telegraph call sign is "CE". [MCOAS]