Station: Fairfax, MI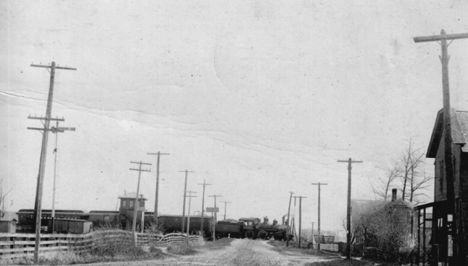 Fairfax was settled in 1891 in eastern St. Joseph County. [MPN]
Fairfax was three miles west of Colon on the east-west Michigan Central Air Line Branch. This was the location of a crossing of the MC's Goshen Branch, which ran from Battle Creek to Sturgis and beyond. It was also known as Colon Junction in 1897.
Photo Info/Credit: Top, Fairfax interlocking looking east in 1910. The train is probably a southbound passenger train on the Battle Creek-Goshen branch. The interlocking tower can be seen at the left. [Mark Worrall collection] 2nd photo, a drawing of the interlocker, transcribed from the interlocker files at the State of Michigan Archive. [Dale Berry]
---
1917. The MC had an operator-agent here on the day shift. [TRT]
1924. In the Matter of the Application of the Michigan Central Railroad Company for Authority to Discontinue Its Ticket Agency at Fairfax Station. D-1909. February 13, 1924.
The Commission in conformity with notice served by parties in interest met at its offices in the City of Lansing on the 17th day of Janu ary, A. D. 1924 for the purpose of hearing the testimony and arguments relative to said matter.
The Michigan Central Railroad Company was represented by its Division Superintendent—D. J. Hackett—no one appearing for the people of Fairfax. - The Commission after due consideration of the transcript of testimony taken at said meeting has concluded that the request is a reasonable one.
THEREFORE, IT Is HEREBY ORDERED, That permission be and the same is hereby granted to the Michigan Central Railroad Company to discontinue its ticket agency at Fairfax station until the further order of this Commission.
MICHIGAN PUBLIC UTILITIES COMMISSION