Station: White Pigeon, MI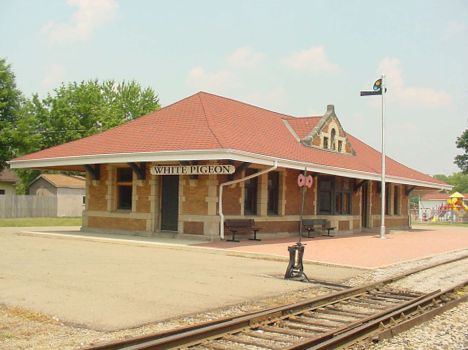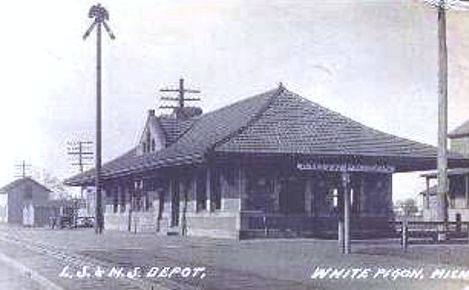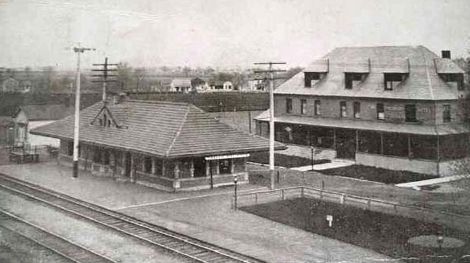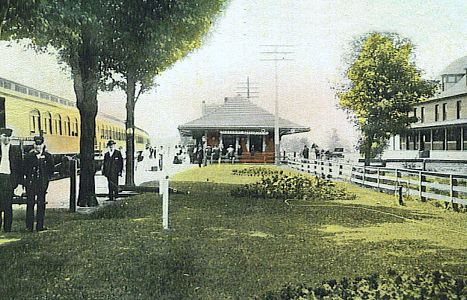 White Pigeon was settled about 1827 in southwest St. Joseph County, about two miles north of the Indiana state line. The village was incorporated in 1837. [MPN]
White Pigeon was a junction of the original Michigan Southern & Northern Indiana (later LSMS, NYC, PC, CR) and the Lake Shore's Kalamazoo Branch.
Photo Info/Credit: Top, the LSMS/NYC Depot at White Pigeon, now operated by the Michigan Southern railroad in 2002. [William Dunham]. 2nd photo, an old photo of the same depot. 3rd photo, the depot with the Kingsbury Hotel in the background. White Pigeon was an important junction between the Lake Shore "Old Road" and their line north to Constantine and Grand Rapids. A hotel close to the depot was important for travelers making connections. 4th photo, a postcard view of the depot gardens. [Last 3, Alan Loftis collection]
---
Timeline:
1851 - The Lake Shore & Michigan Southern arrives from Coldwater and the east. It is extended the same year to Elkhart and reaches Chicago in 1855.
1852 - The Lake Shore builds a branch north to reach Constantine and the St. Joseph River. In 1855 it was extended north to Three River, Kalamazoo in 1867 and Grand Rapids in 1869. [MRL]
1915. White Pigeon had a water tower on the LS&MS in 1915. [NYCtt1915]