Interlocking: Grand Junction, MI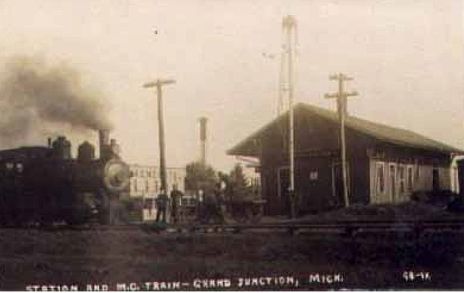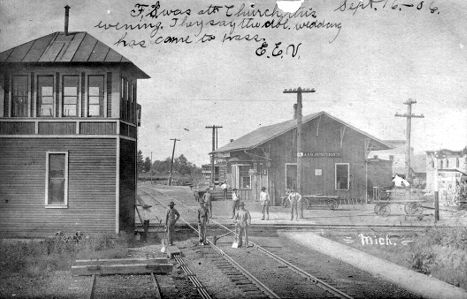 Grand Junction was settled about 1869 with an Inn being built here. [MPN] The junction was the crossing of the north/south Pere Marquette branch from Holland to Chicago, and the east/west Kalamazoo & South Haven.
Photo info/credit: Top, a MC passenger train pulls across the C&WM diamond at Grand Jct. The depot belongs to the Pere Marquette (C&WM) which crosses here. 2nd photo, a postcard view of the interlocking tower and depot, with a PM train. [Both, Alan Loftis collection]. 3rd photo, A 1906 photo of Grand Jct. with interlocking depot and tower shown. A track crew appears to be repairing the rail in front of the tower. [Mark Worrall collection]. 4th-6th photos, inside and oiutside Grand Junction interlocking tower.
1906 improvvements: A new water station was erected by the Pere Marquette here. [PMAR-1906]