Station: Ann Arbor, MI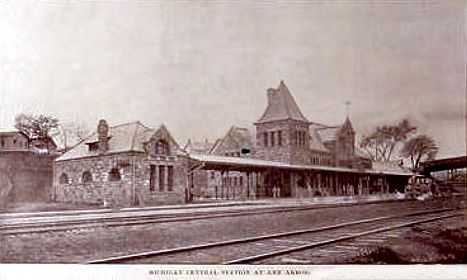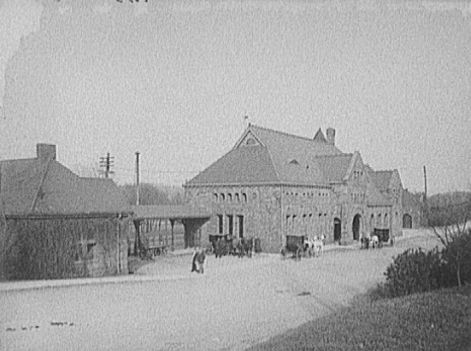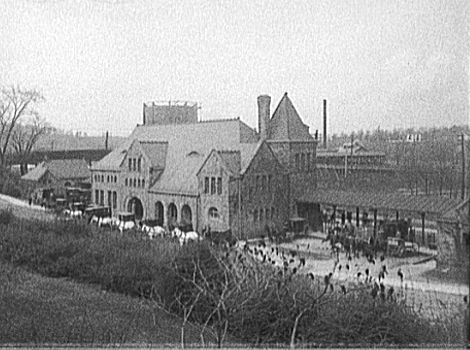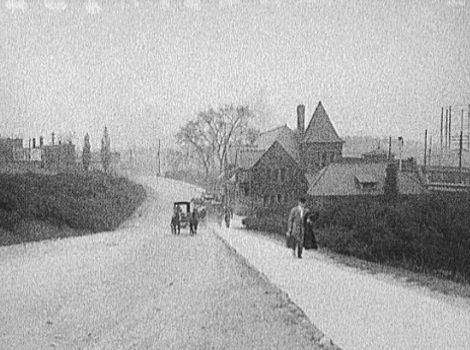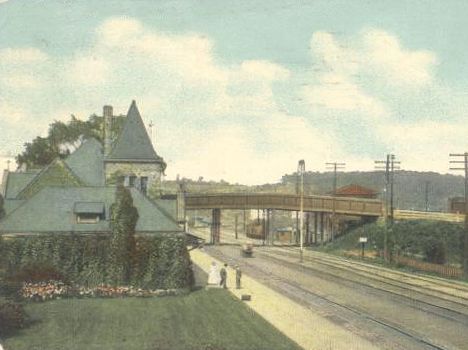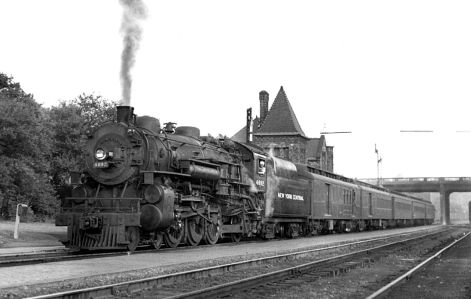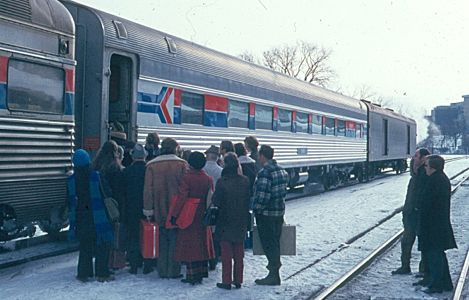 The Ann Arbor area was settled about 1823 and the town became a village in 1833. It was later incorporated as a city in 1851. [MPN] The University of Michigan moved from Detroit to Ann Arbor in 1837.
Photo Info/credits: Top, the MC depot in 1905. 2nd-4th photos, the Michigan Central depot circa 1905. All of these were taken before the automobile became common. Note the horse-drawn carriages picking up and dropping off passengerrs at the station. In the middle photo, the Broadway Street bridge already exists (to get carriages over the tracks) and the "gas works" tank is directly behind the depot. [Library of Congress collection]. 5th photo, a postcard view of the MC station with the Broadway bridge in the background. 6th photo, the NYC 4692 leads up an eastbound passenger train at the MC depot in the 1950's. [Richard Cook, Doug Leffler collection]. 7th photo, Amtrak loads a westbound passenger train in 1973. [Mark Dobronski]
The Michigan Central railroad yard at Ann Arbor had a 140 car capacity.
1920 - On the Michigan Central, this is a passenger and freight agency. Interline tickets are issued. A. J Wiselogle is the passenger agent and M. J. Kappleris the freight agent. The telegraph call sign is "SY". [MCOAS]
Ann Arbor had, and still has two railroads. The Toledo & Ann Arbor railroad built north from Toledo to here in 1878 and then extended north to Frankfort on Lake Michigan by 1889 [MRL1]
Industry:
Allmendinger & Schnieder Central Mills (AA)
Ann Arbor Argricultural Works (MC)
Ann Arbor Central Mills (TAA&N)
Ann Arbor Chicory Co. (AA)
Ann Arbor Electric Light Works (TAA&N)
Ann Arbor Fruit & Vinegar Co. (AA)
Ann Arbor Fuel Co. (AA)
Ann Arbor Organ Co. (AA)
Ann Arbor Watrer Works (AA)
Argo Mills (MC)
C. A. Sauer & Co. (AA - Planning, sash mill)
C. H. Heck & Sons Coal and Wood Yard (AA)
Cook Spring Co. (AA)
G. W. Weeks Coal and Wood Yard (AA)
Heinsman & Laubengeyer Elevator (TAA&N)
Hoover Steel Ball Co. (AA)
International Manufacturing Co. (AA - furniture)
Michigamua Oil Co. (AA)
Michigan Milling Co. (AA)
Michigan Table Co. (TAA&N)
Swathel Kyer & Peterson Mills (MC - flour)
Standard Oil Co. of Indiana (MC)
S. Wood & Co. Lumber (MC)
Washtenaw Gas Co. (MC)
Westgate Mfg. Co. (AA - lamps)
---
1917, The MC had a operator-clerk here around-the-clock. [TRT]
December 9, 1935. Ann Arbor commuters will meet Tuesday morning with John Danhoff, Michigan Central general counsel, to protest the road's decision to discontinue its gasoline car service to Detroit after Sunday. [DFP-1935-1210]