Location: Ann Arbor, MI - Ferry Yard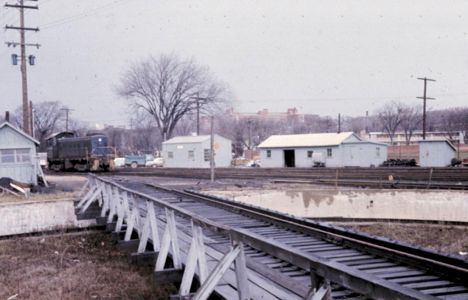 Ferry Yard was located on the Ann Arbor railroad main line (Toledo to Frankfort) on the south side of Ann Arbor. It was the railroad's main yard in the City. The yard extended from approximately State Street on the south to Hoover Street on the north. The yard is next to the UM football stadium and was used in the 1900's as a staging area for trains carrying visiting teams and spectators.
Photo Info: Top, the turntable at Ferry Yard in 1966. No. 6, the local switcher, is in the background. The yard office/train order office can be seen to the right of the switcher.
Location: 42o15.995'N / 83o44.648'W.
---
Football Specials and the Ann Arbor Railroad's Ferry Yard.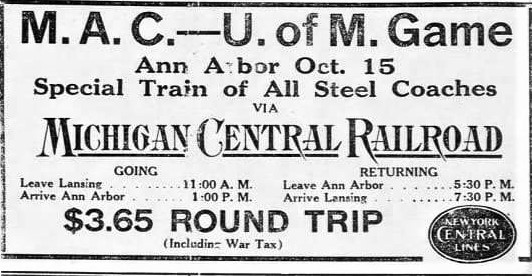 Jim Sinclair shares the following comments about the University of Michigan home football games and the Ann Arbor Railroad's role in getting fans to and from the Stadium. The UM Stadium "the big house", is located adjacent to the Ann Arbor Railroad's Ferry Yard.
At one time, the many football specials to and from Ferry Yard made the Ann Arbor mainline between Toledo and Ann Arbor a train watcher's paradise on "home" football Saturdays. In fact, I am convinced that Ferry Yard was as large as it was because of all the football specials. Additionally, the yard was equipped with underground steam pipes so steam could still be supplied to the train while the locomotives were being turned and serviced. I understand they used the assigned Ferry Yard steam switcher to supply the steam to the pipes. If you nose about the yard today (2002), one can still find a few cast iron doors hiding in the cinder ballast and if you can get one open, you'll find glad-hand connections so above ground hoses could be connected to the trains. What I'm not sure about is what they did after the steam era ended as they would have no ready way to generate steam.
According to an article that appears in an old AARRT&HA publication, the football specials started shortly after the turn of the century. The trains grew in popularity during the twenties and thirties and were still going quite strong into the late 50s and early 60s. The Ann Arbor also installed an APB (Automatic Permissive Block) signal system between Milan and Ferry during the early thirties to safely move the fleet of football specials to or from Ferry Yard. While most of the specials came out of Toledo, some also came out of Detroit on the Wabash and in fact, a connection at Milan in the northeast quadrant was appropriately and officially named, "The Football Wye."
Some football specials came from the west (north), too. It is reported some trains originated in Owosso or came off the GTW at both Lakeland and Durand. It is also reported that even a few Pere Marquette (C&O) specials came out of Detroit and once they reached South Lyon, they entered onto GTW rails to Lakeland and thence onto the Ann Arbor track. This is possible but unless there were some connecting tracks that existed that I know nothing about, this might have been an operational headache. The train's direction would have to reversed at South Lyon and then again at Lakeland (I'm implying the locomotives would have had to run around the train so the cars on the end of the train leaving Detroit would now be right behind the locomotives...) Yes, it's possible this may have happened once or twice in the diesel era, but I wouldn't say it was a normal or routine occurrence. And I can't believe it ever happened in the steam era since there was no way to turn the locomotive at either South Lyon or Lakeland.
So, it wasn't uncommon to have trains coming and going in both directions at Ferry Yard. When Michigan was playing Ohio State, most of the trains would operate out of Columbus and enter onto the Ann Arbor at either Galena St. or Hallett (depending on which railroad and route the specials had come into Toledo).
I've seen pictures that show every track on the east (south) end of Ferry Yard with waiting locomotives and trains ready to roll east (south) after the game. One by one the specials would depart once the automatic block signal (that used to sit just north of the State Street crossing) would display an "approach" (yellow) aspect.
The one and only football special I ever witnessed (at the ripe age of 12!) occurred in the fall of 1968 when the GTW ran a train down from Durand for the Michigan -- Michigan State game. It was pulled by a couple of GTW GP7s or GP9s and had about 10 or 12 cars. While I didn't take a photo of it, I believe Mr. Sam Breck did and I also believe I have one or two slides of it in my collection.
Thanks to the late F.D. Cairns of Toledo, he documented all the football specials for particular games. I have selected one such account and will share it with the list for all to enjoy. (Warning!! This will make you wish you were alive and trackside along the Ann Arbor main somewhere between Milan and Ferry on November 21, 1959, for the Michigan -- Ohio State game!!)
1 -- Galena 9:15 am -- C&O 8806, 8804 -- 13 cars [C&O] -- Columbus
2 -- Galena 9:45 am -- C&O 8003, 8009 -- 11 cars [C&O] -- Columbus
3 -- Galena 10:00 am -- C&O 8008, 8010 -- 11 cars [C&O] -- Columbus
4 -- Galena 10:15 am -- C&O 4027, 4004 -- 14 cars [C&O, PRR, NYC] -- Columbus
5 -- Galena 10-25 am -- C&O 101, 4520 -- 13 cars [C&O] -- Columbus
6 -- Cherry St. 10:00 am -- WAB 484, 493 -- 14 cars [WAB, NYC] -- Toledo
7 -- Hallett 10:35 am -- B&O 1439, 1430 -- 11 cars [B&O] -- Lima
8 -- Hallett 10:45 am -- B&O 1440, 6616 -- 10 cars [B&O] -- Cincinnati
9 -- Milan 12:25 pm -- WAB ? (numbers unknown) -- 20 cars [unknown] -- Detroit
Key: entries from left to right depict: Special Train Number; Junction and Time; Engine & Railroad; Equipment; From
Mr. Cairns also made other entries but time and space does not allow me to list them all here. I can say that by 1965, only two C&O trains from Columbus operated over the Ann Arbor for the Michigan -- Ohio State game on November 20th. They operated via Galena St., and each had two diesels (C&O 4007, 4015 and 4014, 4003) and 16 and 14 cars respectively.
I hope this helps shed some light and information about the football specials on the Ann Arbor. No doubt I have missed answering some obvious questions, so if anyone has some additional questions, please let me know and I'll do my best to answer them for you.
Jim Sinclair
Ferry Yard had a 65' turntable. As of 2003, the pit walls were caved in, debris and trees were filling the pit, but the table is spiked to the lead track and you can walk out on it. [Kris Foondle]

Time Line
1916. The Ann Arbor railroad builds a new coaling station at Ann Arbor. [MCR-1916]