Station: Salem, MI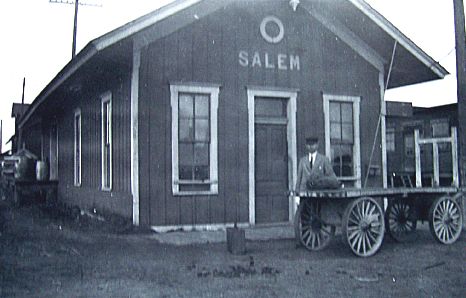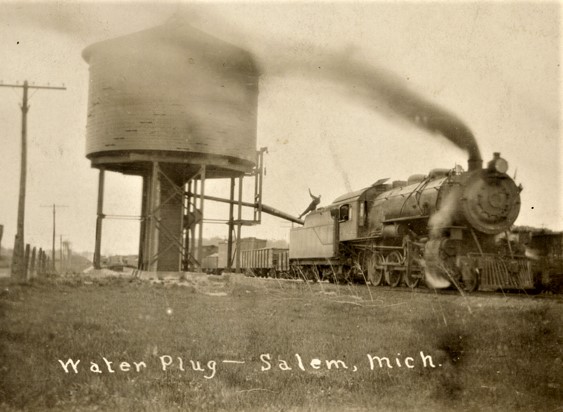 The hamlet of Salem was settled about 1825 in northeast Washtenaw County. [MPN]
The town was located on the Pere Marquette main line which ran between Detroit, Plymouth, Lansing and Grand Rapids. The PM had a station and passing siding located here.
Photo info/credit: Toop, the Pere Marquette depot at Salem in the early 20th century. The depot is now gone. [Alan Loftis collection]. 2nd photo, the water tower at Salem about 1913. [Detroit Public Library Collection]; 3rd photo. a view of the PM train wreck, just east of Napier Road near Salem. [Mark Worrall collection]
Salem was famous for two events. First, the residents the township who were upset with a voted subsidy to bring the railroad through here, filed suit which ultimately went to the Michigan Supreme Court. The Court ruled in this case that governments could not vote tax assessments to entice and pay privately-owned railroads.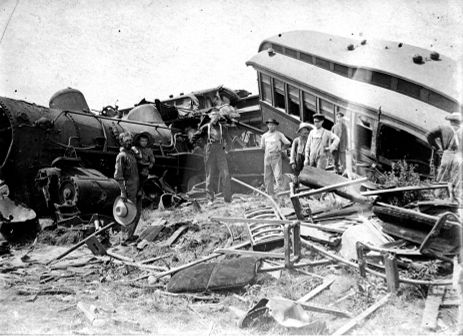 The second event was one of Michigan's most deadly railroad accidents, which took place in the early 1900's just east of Napier Road near Salem. A PM excursion train headed east for Detroit collided with a westbound freight train, killing dozens of passengers. The untimely train meet was caused by improperly written train orders by an operator at Plymouth.
---
December, 1869: Salem Township in northeast Washtenaw County refuses to deliver 2% local government bonds to the Howell & Lansing Railroad for construction of their road through the township. The railroad went to court to get possession of the bonds and the Michigan Supreme Court, on a 3-1 vote, ruled that a township had no right to bond itself to aid a railroad, even though authorized by the legislature. The H&L and other railroads were forced to discontinue this form of financing. [COHS-2/1998]
Improvements in 1878. A new passenger and freight house was built at Salem, including a water-tank. This replaced the station which burned in September, 1877. [DL&N-1878]