Interlocking: Porter Tower, Porter, MI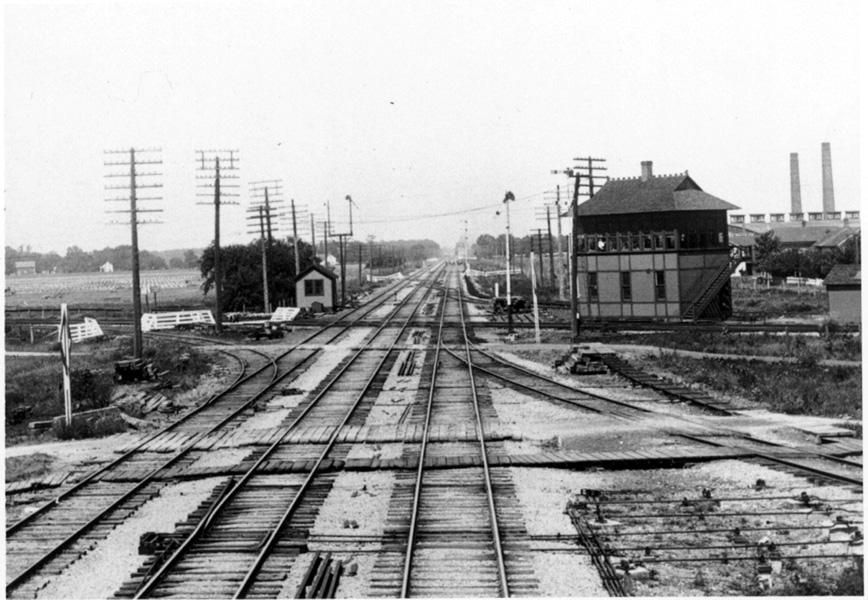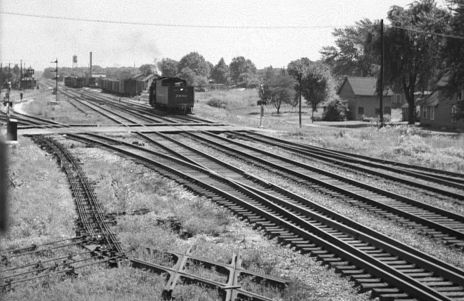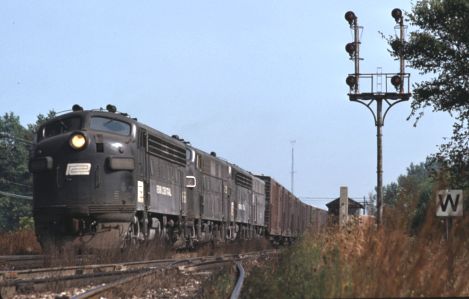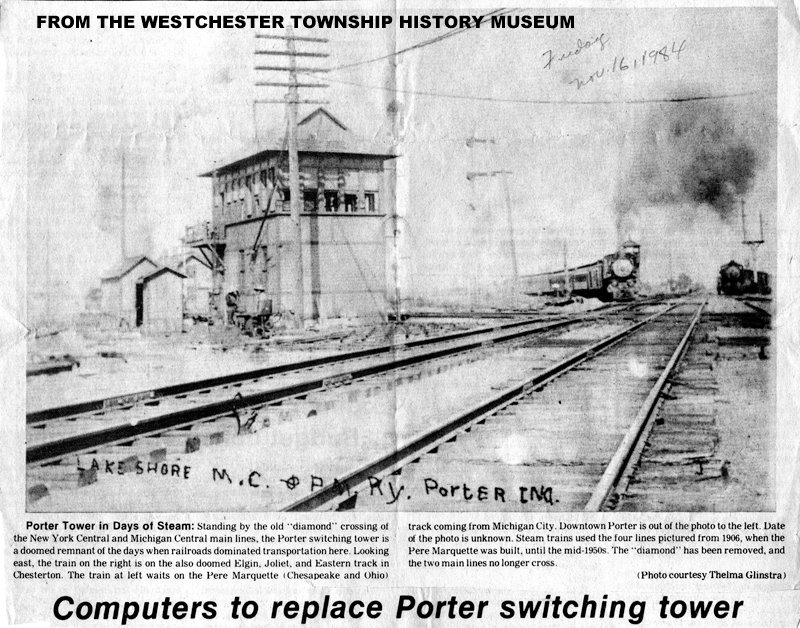 Porter, Indiana is a small town but an important crossing and junction of several railroad lines. It is adjacent to neighboring Chesterton, Indiana.
The busiest route through Porter is he east-west New York Central main line between Toledo and Chicago. This line was crossed NE/SW by the Michigan Central's main line from Detroit to Chicago. In the early days, these Vanderbilt-controlled railroads used seperate stations and entrances into Chicago but this was later changed to using the NYC route.
Two other lines had junctions with the NYC at Porter. The first was the Pere Marquette/C&O line from Detroit via Grand Rapids. The C&O then used NYC trackage rights towards Chicago, rejoining their own line at Pine, Indiana. The Elgin, Joilet and Eastern also had a belt line around Chicago which terminated and interchanged with the NYC here.
Today, the EJ&E has been abandoned, but the NS operated the main line and the old MC branch southeast. Amtrak operates the old MC line into Michigan and CSX continues to use their main line to Grand Rapids and Detroit.
Photo info/credit: Top, an overview of the junction looking westward. 2nd photo, a New York Central engine works the yard at Porter, Indiana, east of the interlocking tower. The crossing of the Michigan Central and the New York Central is out of sight, just to the right of the photo. A replacement "diamond" is positioned in the weeds, ready for rapid replacement if necessary. The pipes in the ground lead from the tower (where the photograph was taken), and control switches and signals in the interlocking. The track leaving to the left of the photograph is the Pere Marquette main line to Grand Rapids. In addition to the MC, NYC and Pere Marquette, the Elgin, Joilet and Eastern interchanged with these lines at Porter. This photograph is from 1953. [Cecil Hommerding/Doug Leffler collection]. 3rd photo, a Penn Central F-unit powers a westbound freight train at Porter in 1976. [Mark Hinsdale]; 4th photo, an article about the closing of Porter Tower in 1984 with a photo of a PM passenger train entering NYC tracks towards Pine. [Westchester Township History Museum]
---
The operator at Porter controlled a remote control switch on the former MC main line 1.2 miles west of the tower. The normal position for this switch was eastward from the main track to the siding. [TT-1947]
---