Station: Big Bay, MI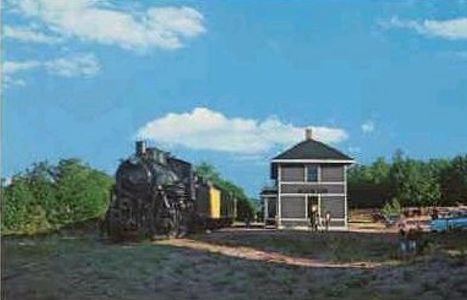 Big Bay, in northern Marquette County, was founded by lumbermen along Lake Superior about 1875. The community later became an "out-of-the-way" summer resort community for people including Henry Ford, the auto magnate.
Photo Info/Credit: A postcard view of the Marquette & Huron Mountain railroad depot and train at Big Bay in a postcard view.
M&SE Big Bay Station. This station built this station in 1905 as their line was arriving from Presque Isle. This building was moved 200' in the 1940's to provide additional space for Henry Ford's Thunderbay Inn. Thestation is now a private residence. It is a two-story frame sgtructure with a hipped room, 76' long and 17' wide. The second floor originally served as the living quarters for the agent while the first floor contained the waiting rooms and an office. [UPM]
---
Industry
Big Bay Lumber Co. (xxxx ← 1906 → xxxx) - idle in winter months. [AML-1/13/1905]