Station: Gwinn, MI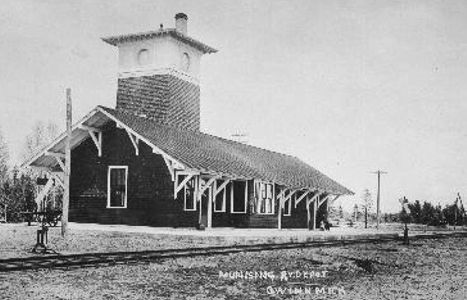 Gwinn was a mining town which was platted by the Cleveland-Cliffs Iron Company in 1902. The Gwinn Mine was opened nearby in 1905. [MPN]
Gwinn was located on the LS&I railroad about 10 miles west of Little Lake in Marquette County.
Photo Info/Credit: The Munising Railway depot at Gwinn, with its large observation tower. [Alan Loftis collection]
The station at Gwinn was built on Railroad street about 1900. [UPM]
[LSMI-1909] indicates that the town was platted by Cleveland Cliffs in 1906 with roads being grades and principle thoroughfares macadamed. A sewer and water system were installed and three bridges built. The business and residential secitons of town were kept seperate and no buildings were permitted in the business district unless they were brick, concrete or some other type of fire-proof exterior. The town was described as "growing rapidly". The mining company also built a model hospital here.